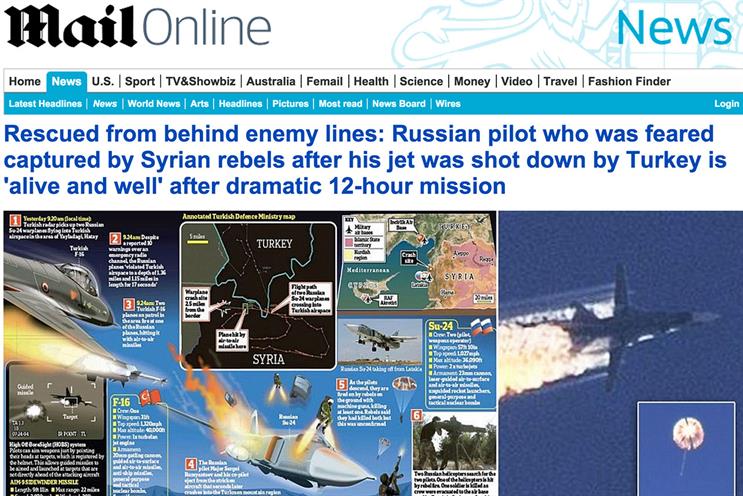 Newspaper website revenue jumped 20 per cent in the July to September quarter, after a significant slowdown in the previous April to June period when growth was only 5 per cent.
Apple's decision to allow ad-blocking apps in the App Store in September has alarmed publishers but Martin Morgan, the chief executive of Daily Mail & General Trust, told a City investor presentation that "it hasn't had much effect" on users' behaviour on the world's most popular English-language newspaper website.
He added that ad-blocking was "something we'll keep an eye on".
MailOnline's ad revenue growth has slowed to 16 per cent in the financial year to September from a 41 per cent rise a year ago.
The Mail's investor presentation gave a quarter-by-quarter presentation that shows dramatic changes to its ad revenues during the financial year at the consumer arm, which includes the Daily Mail, MailOnline and Metro.
The latest figures for July to September show retail fell 17 per cent, telecoms were down 14 per cent and motors dived 17 per cent in the July to September quarter. The only bright spot was finance, up 8 per cent in the quarter.
Retail, one of the most important categories, went from stable in the six months from October 2014 to March 2015 to a double-digit plunge.
There will be scant consolation that the decline in retail in the most recent three months was a slight improvement on the 26 per cent slump seen in the April to June quarter.
Telecoms was arguably even more shocking. Ad spend was up 24 per cent in the first quarter and down only slightly in the second three months.
But revenues fell 16 per cent in the April to June period and have barely improved.
Industry observers have blamed the uncertainty around the general election for some of the decline but many retailers in particular appear to have rethought their marketing spend, with Tesco thought to be switching investment into TV. Lidl is said to be an exception.
Looking at the big picture over the 12 months to September, ad revenues at the Mail titles fell 3 per cent on an underlying basis. Most categories – retail, telecoms, motors, travel and finance – were all down. Entertainment was flat.
The good news is the worst seems to be over after the April to June quarter when combined ad revenues across print and digital fell 7 per cent between April and June.
Digital growth is offsetting print decline again, rising 1 per cent. However, there was still a slight decline across the 12-month period.
Annual ad revenues across the Mail's consumer business, which includes non-news sites such as voucher site Wowcher, generated £351 million, down 1 per cent.
It's also worth noting that freesheet Metro's revenues rose 1 per cent across the year – proof that there is still life in print. But the group has warned of "challenging" conditions in print for the coming year.