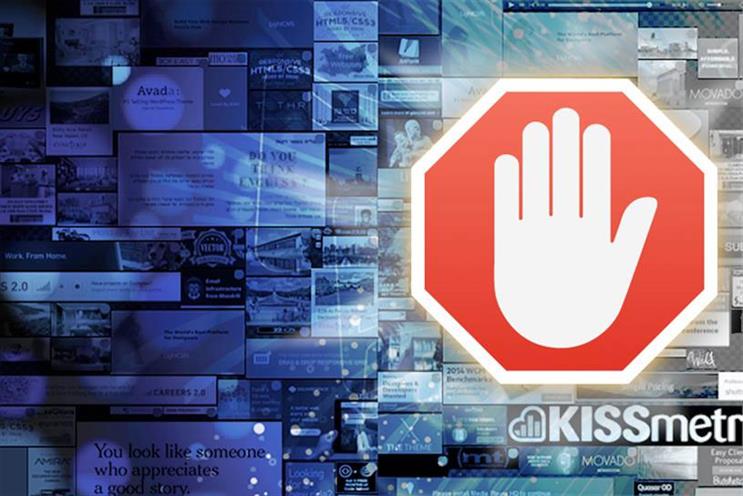 Ad-blocking now poses one of the major threats to publishers and advertisers, with developments almost on a weekly basis. According to the IAB, 18 per cent of UK adults are now using ad-blocking software.
A couple of weeks ago I spoke about ad-blocking at the ACI's Programmatic Summit and last week Bob Wootton, director of media and advertising at ISBA, chaired a panel of ad-blockers versus ad-block-blockers at the IAB's Video Conference. Don't worry, it was a very civilised, measured discussion and no blood was spilt.
As the focus shifts to mobile, the mobile operators are gradually revealing their ad-blocking strategy.
In September it was announced that Shine, the mobile ad-blocking company, had struck a deal with Jamaica-based operator Digicel to block all ads at a network level on both the mobile web and, for the first time, in apps. This is an interesting development as ads have, up to now, only been blocked on the mobile web.
Shine has been described as a mobile start-up, although it has some powerful backers. One of their investors is a company owned by Asia's richest man, who is also chairman of the company, which owns Three. Digicel's chairman is Ireland's richest man.
If this exercise is successful for users, Digicel and Shine, the ad-blocker will extend it to other local markets, and might find other mobile operators willing to roll it out globally with them.
The system blocks display and video ads in both mobile browsers and apps. The apps part is significant, because the mobile ad-blockers in the market right now can only block ads on the mobile web. 90 per cent of the activity on smartphones is via apps, within which ads aren't currently subject to ad-blockers.
Significantly, ad-blocking will be standard for Digicel customers at a network level – before they are served to consumers. In other words opt-out. Customers will have to actively ask the operator to opt out of the ad-blocking facility. Shine's business plan appears to be similar to Adblock Plus's – for a price, media owners can be added onto a white list, allowing their ads to be shown.
Mobile operators in the UK are now officially admitting that they are at least "exploring the ad-blocking options available".
Olaf Swantee, EE's chief executive, recently confirmed with the Sunday Telegraph that they have launched a strategic review on ad-blocking. He said: "We think it's important that, over time, customers start to be offered more choice and control over the level and intensity of ads on mobile.
"This is an important debate that needs to happen soon. That's why we've kicked off a strategic review internally to start considering our plans."
At the moment ad-blocking via Digicel appears to be a blunt instrument – you have to block all ads rather than just those that annoy you. However, EE has said that they are aiming to offer a more refined, granular service, which can filter ads.
There is a feeling amongst mobile operators that having invested in their network's infrastructure, the likes of Facebook and Google should be paying to use their networks, with ad-blocking providing an opportunity to charge them to ensure that their ads aren't blocked.
The question has to be will the other mobile operators in the UK follow suit? At the IAB Video conference Shine wouldn't confirm nor deny if they have been working with any of the mobile operators in the UK.
Robert Franks, the managing director of digital commerce at O2, recently told Business Insider that "We are absolutely looking at [network-level ad-blocking] technology."
It has also been reported that mobile operators have been working with advertisers to "improve the standard of mobile advertising" (i.e. poor targeting, poor creative and ads that are data heavy) by cutting out the "bad ads". But who determines a bad ad? Adblock Plus is establishing an independent committee to determine what an "acceptable ad" looks like. We need some cross industry co-ordination here.
ISBA will be following up October's ad-blocking event with another on 1 March, involving publishers, advertisers, ad-blockers, ad-block-blockers, media agencies and mobile operators. We have also published Guidance for our members.
In October Google announced that it has been working with publishers to speed up loading times across the mobile web via their "Accelerated Mobile Pages" (AMP) project.
Tony Danker, chief strategy officer at the Guardian, said: "It is essential we bring advertisers into the process too. There is no such thing as a sustainable ecosystem that chooses between user and advertiser, so the ad community must be an equal partner in AMP to improve speed and the user experience".
No argument there, as advertisers are already heavily involved in looking at the options available.
One of the questions is whether Google can collaborate with other major players such as Facebook and Apple.
In November the IAB published new industry guidelines, LEAN, fully supported by ISBA, which suggest more creative, smaller-format ads. But will simply making ads better be enough? Probably not. It's a good start, but we also need different attitudes to online advertising.
Last month the World Federation of Advertisers (WFA) published An Advertiser's View on Ad-Blocking, which puts people back at the heart of marketing. The WFA issued a major call to arms on ad-blocking, urging its members to create an online environment that puts consumers first.
Ad-blocking is an industry-wide problem; it is essential that all parties work together to ensure that cross-industry standards are agreed upon. And, within such a fast-moving environment, time isn't on our side.
David Ellison is the marketing services manager at ISBA