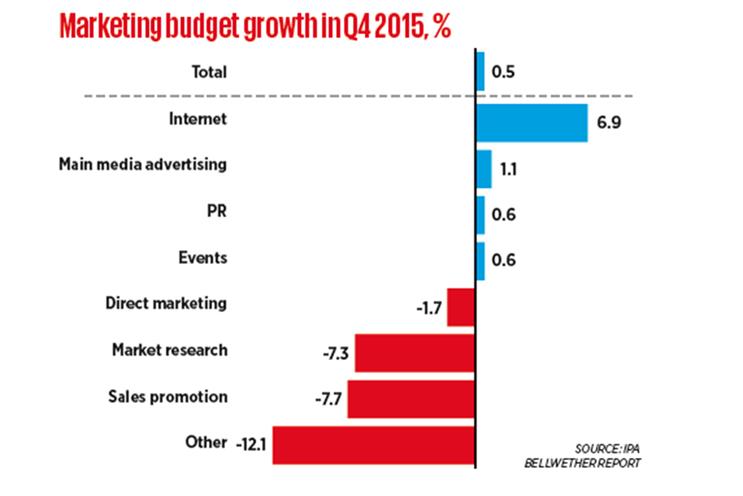 A net balance of 0.5 per cent of companies registered an increase to their budgets in the last quarter of 2015, a marked drop from the 4.4 per cent upward revision in the third quarter.
Marketers' confidence in their industry's financial prospects remains low at 7 per cent, up from 6.8 per cent in the previous survey.
But marketers are more positive about their own prospects, with a net balance of 24.6 per cent of companies expecting growth in their total budgets in 2016-2017.
Internet marketing recorded the strongest upward revision to budgets at 6.9 per cent, with main media advertising up 1.1 per cent. Sales promotion was down 7.7 per cent.
Despite geopolitical instability, potentially higher interest rates and uncertainty over Brexit, Bellwether pro-jections for 2016 UK adspend growth have been increased from 3.7 per cent in the third quarter to 3.9 per cent.
Paul Bainsfair, the IPA's director-general, said: "While these latest findings reveal inevitable easing due to macroeconomic concerns, there are some positives.
"Marketers have signalled a marked increase in their bud-get plans for 2016, both the Olympics and Euro 2016 are on the horizon, and Bellwether has predicted annual adspend growth of 3.9 per cent. Not a bad start to the year."