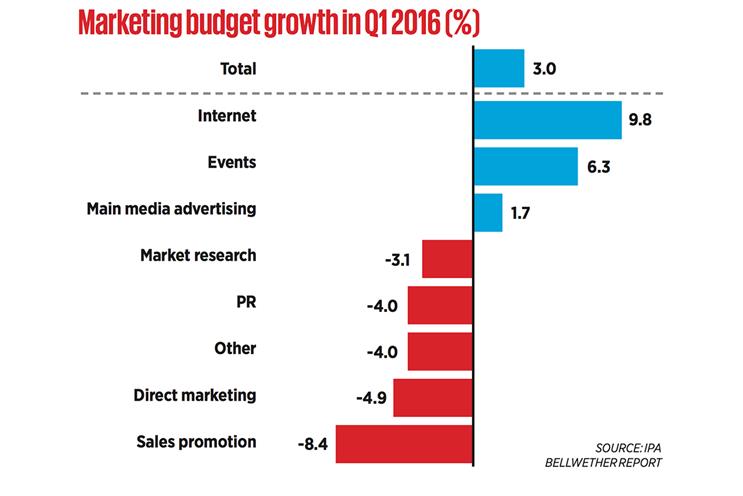 The latest IPA Bellwether Report, published today, shows that a net balance of 3 per cent of companies re-gistered an increase to their budgets during the first three months of 2016. This is a rise from 0.5 per cent in the fourth quarter of 2015.
Internet marketing had the strongest upward revision to budgets of all Bellwether categories, recording a five-quarter high of 9.8 per cent (from 6.9 per cent in Q4 2015). Reduced spending was seen in direct marketing, sales promotion and market research.
Marketers' confidence in their industry's financial prospects, however, has dropped to the lowest level since the start of 2013 (-6.5 per cent, down from +7 per cent in Q4 2015), while optimism about respondents' own company financial prospects slumped to the lowest level since late 2012 (+13.6 per cent from +20.4 per cent in Q4 2015).
The report's author, Paul Smith, believes this loss of confidence is partly due to uncertainty ahead of the European referendum, which has led to caution about committing funds to marketing.
Bellwether now predicts adspend growth of 3.3 per cent for 2016, a downward revision from the 3.9 per cent projected in Q4 2015.
But the IPA's director-general, Paul Bainsfair, said that this summer's sporting events should "provide a shot in the arm" to marketing budgets.