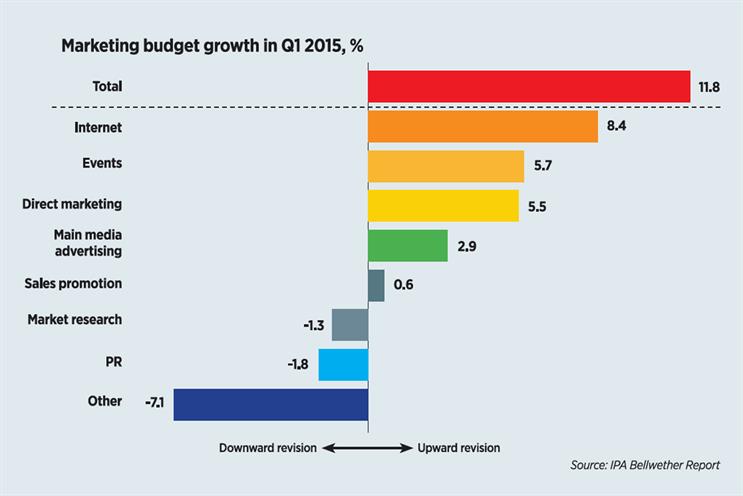 According to the report, the net balance was a 11.8 per cent increase in the first quarter. The net balance is calculated by subtracting the percentage of companies reporting a downward revision in their budgets from those reporting an upward one.
The figure is the same as the first quarter of 2014 but significantly higher than the 6.1 per cent net balance in the preceding final quarter of 2014.
It means the full 2014/15 marketing year as tracked by the industry body ends with the best overall growth for a decade, with a net balance of 21.8 per cent of companies boosting budgets.
In terms of actual spend, the data suggests growth is set to continue despite uncertainty around the looming general election. A net 28 per cent of companies are preparing to increase budgets in 2015/16.
In the first quarter, the internet once again enjoyed the biggest growth (up 8.4 per cent). Events budgets were also revised upwards (5.7 per cent), along with direct marketing (5.5 per cent), main media (2.9 per cent) and sales promotions (0.6 per cent). Declines were reported in market research (1.3 per cent) and PR (down 1.8 per cent).
Paul Bainsfair, the IPA's director-general, said: "With over ten successive quarters of growth in marketing budgets and the best budget year for marketing spend in a decade, this latest Bellwether provides welcome evidence of the extent to which clients recognise and value the significant contribution marketing communications makes to their business success."
Tom George, chairman UK and Northern Europe EMEA at MEC and chair of the IPA Media Futures Group, said: "The outlook for the UK media market remains very encouraging and the positive net balance for the main media for five successive quarters as reported in the latest Bellwether, represents the best sequence in the last fifteen years.
"The internet continues to attract an increasing share of budgets and we predict that it will account for over half of all investment for the first time ever this year. This notwithstanding, TV continues to perform remarkably well indicating its importance in long-term brand building and underlining traditional television's strength in that it has few substitutes.
"Whilst the slowdown in net balance growth for Q1 2015 is noted, so is the increased optimism for 2015/16. This optimism has been translated through to actual media spend with growths of 8 per cent and 6 per cent across the last two years and we see no reason why 2015 growth shouldn't reach if not exceed last year's levels. This would be no mean feat in an election year which is normally characterised by uncertainty."