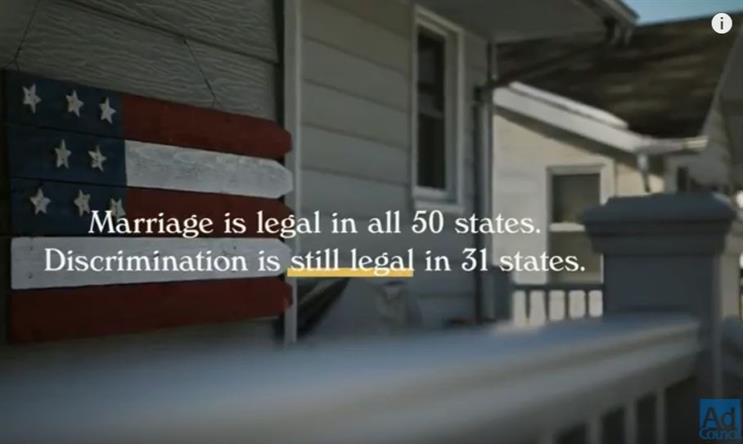 This June marks three years since same-sex marriage became legal across the country. But in 31 states, people are still allowed to discriminate against members of the LGBT community seeking housing, jobs and medical care. Three states – Arkansas, Tennessee and North Carolina – have laws preventing the passage of nondiscrimination legislation at the local level. And 80 percent of Americans don't know any of this is happening – they believe marriage equality covered everything.
To combat this misperception, the Ad Council debuted 'Beyond I Do" on Tuesday, a multi-year, fully integrated campaign that tells the stories of real LGBT couples affected by discriminatory state laws. Creative, executed by CP+B, will appear nationally on TV, radio, billboards and digital and social.
"The Ad Council's mission is to take on the most pressing social issues facing our country, and certainly discrimination among LGBT individuals is a huge issue, and it's a growing issue," said Heidi Arthur, the Ad Council's head of campaign development. "We need to raise awareness and really increase empathy and understanding of the challenges LGBT people face today."
Challenges like a pediatrician denying a toddler medical care because her parents are both women, as happened to Jami and Krista when they took their daughter to the doctor. Or the experience of Aaron and Shaun, whose hometown newspaper refused to run their wedding announcement. Or Jimmie, who lost her teaching job because her school principal and board disapproved of her sexuality. "We found stories that spoke to situations with people who could be your neighbors," said Arthur.
Work on the campaign began just over a year ago when the Ad Council had a meeting with stakeholders (which is how their campaigns usually start) about launching a new effort in the LGBT rights space. The Gill Foundation, which since 1992 has donated over $335 million to LGBT equality initiatives, immediately expressed interest in partnering on the campaign and came onboard to help shape it.
Through research on LGBT issues, conducted by Redscout, a clear theme emerged: non-LGBT Americans (79 percent of them) are supportive of LGBT rights but didn't know about the widespread lack of legal protections.
"People were surprised and shocked to find that [out]," said Arthur. "It's new information that's startling, and it's across the board no matter where you live."
Surveys also found that 55 percent of LGBT Americans reported experiencing discrimination in the last year – an eleven percent increase over the previous year.
Stats in hand, the team got to work on shaping messaging. Focus groups determined that the creative was most effective when it highlighted "real stories of people who were being discriminated against in ways that chipped away at the American Dream," Arthur said, such as being denied housing, work, medical care or family stability. "Not everyone knows someone who's experienced [this], so finding relatable families and hardworking people helped people see the situation differently."
The Ad Council has long worked on LGBT issues: In 2008, they partnered with GLSEN for "Think before you speak" to tackle then-pervasive use of 'That's so gay' as a derogatory remark. Since debuting in 2015, the ongoing 'Love Has No Labels' campaign has featured LGBT couples. 'Beyond I Do' continues that commitment and updates it to reflect significant changes in the last decade.
"We're speaking to the issue as it exists in this moment in time, knowing it's been an issue for quite some time," Arthur said. "It's a different climate out there today, and this message is about education and increasing empathy and understanding by sharing real stories and real facts."