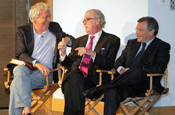 The two questions are only related (one assumes) by dint of both featuring in a Monday night evening of on-stage bonhomie and nostalgia, between two knights, Sir Frank Lowe and Sorrell, plus one peer of the realm, Lord Tim Bell.
The back-slapping and boys' club ribbing (over afternoons lost in a drunken haze, vastly inflated expenses and glamorous girls on the arm in advertising's "Golden Age" of the 60s and 70s) came courtesy of the IPA.
It was showcasing "Time Shift: The Rise and Fall of the Ad Man", a documentary by social commentator Peter York, scheduled for next Sunday at 9pm on BBC4 (just before Mad Men).
An audience of surprisingly young ad types packed in to the Royal Society of Medicine to see and hear the romp through the working lives of those who have gone before them.
In serious moments, the trio charted the industry's progression from "white, Anglo-Saxon and Protestant", run by ex-army colonels, and producing ads in the 50s for the likes of Bristow's Lanolin Cream Shampoo that dripped with sexism.
New Golden Age
The advent of commercial TV and the influence of such American "Mad Men" as Dane Boyle and Bernbach brought about a "generational shift", they noted, in which cool, young, London ad men took over and changed the rules. And so the Golden Age of epic ads and indulgent excess was born.
"There will be another Golden Age but we need something to break the continuum," said Bell. "Perhaps it's digital."
"Perhaps it's already happened," added Lowe. "There's a generation being brought up for whom technology is nothing special. We haven't learnt how to use technology yet."
Sorrell agreed. The application of technology will change the craft, the training, the thought processes and the nature of people working in advertising, he predicted, in the way that the application of business techniques did in the 60s.
"The industry has never been as absorbing, interesting and challenging as it is now," he said. "What does Google mean to us? It's the most riveting thing we've ever seen and it dwarfs what was seen in the 60s and 70s."
So what worries Sorrell? "That there will be Stanford PHD graduates coming out with 'son of Google', but they'll be from Bangalore. The business is at its most scary but most exciting."
"The past was great," said Lowe. "But the future will be fabulous."
Next time you happen upon all three luminaries in a bar, up the entertainment quotient by:
quizzing Bell on how and why Saatchi & Saatchi's 80s' bid for the Midland Bank was "stopped";
getting Sorrell talking about creative agencies' error in forgetting the importance of media;
casually asking Lowe how much his erstwhile employer Interpublic Group cares about advertising.
Out-takes from the stage
Libel laws prevent us revealing which 60s ad boss chose his secretaries on their ability to clean out his waste-paper bin into which he would throw up after a liquid lunch each afternoon!
Sadly we also have to protect the identity of the executive whose butler would bring ice in a bucket to the local Charlotte Street pub for his boss' afternoon Champagne-drinking competitions with Bell.
Sorrell: "The poor finance director at Saatchi's who worked full-time on Tim's expenses...there was the £1,000 foie gras..."
Bell: "Frank and I both had pink cars in which we would drive from our offices for lunch at L'Etoile" (the restaurant not more than 400 yards away)
Bell: "We broke the rules and did mad things and made the world a better place in my view."
Lowe on the epic Benson & Hedges "iguana" campaign: "John Webster rang me and said you have finally gone mad now, Frank, because it was seen as eccentric...Whether you are talking about Impressionism or rock 'n' roll, if you do something completely new, pre-testing won't work."
Lowe: "What's ROI?" Sorrell: "I've no idea."

Does anyone in the current UK ad business remind you of a character from Mad Men? Have your say in our forum.