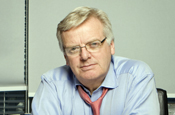 The commission blocked the venture on Wednesday on the grounds that it would pose too much of a threat to competition in the video-on-demand market, and expressed concern about the amount of control the broadcasters involved would have over UK-originated TV content.

Chris Locke, the trading director of VivaKi Trading UK, said the ruling presented a ?setback for VoD: "There was an opportunity for advertisers to talk to consumers in a different way by having all the content in the same place.

"Advertisers would have been able to access a different church of consumers and engage with them on a one-to-one basis. Most of the viewing is lean-forward with consumers forced to watch an ad in order to view the programme."

Locke added that VoD still has the chance to grow due to the decline in TV revenue.

Matt Simpson, the chairman of the IPA Digital Media Group, said the ruling was a loss for digital media.

"Kangaroo was held by a lot of agencies as a potential catalyst for spending and investment into digital," he said.

Michael Grade, the ITV executive chairman, said: "We are surprised by this decision because we believed that the Kangaroo joint venture, competing in a crowded online world against dominant global brands, was an attractive UK consumer proposition, free at the point of use."