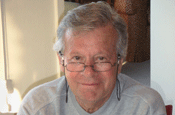 Dusenberry lost his battle with lung cancer at his Manhattan home at the end of last month.
His death came just three months after he, along with Britain's Tim Delaney, had been inducted into the One Club's Creative Hall of Fame.
Dusenberry retired as the chairman of BBDO North America in May 2002, ending a link with the network that stretched back four decades.
During that time he was credited as the architect of BBDO's creative philosophy and laying down the high creative standards that became the trademark of network agencies across the world.
Indeed, he is said to have been a key factor in the decision of Abbott Mead Vickers to join the Omnicom-owned BBDO network in 1991.
"Phil was central to that decision because David Abbott (then the AMV creative chief) admired his work so much," Michael Baulk, AMV's former chairman, said.
"He transformed BBDO in New York from a big agency that did decent work to a bigger agency that did brilliant work," Baulk added. "As the worldwide creative head he set BBDO apart from its rivals by giving local offices the space, time and freedom to create the right work for their markets."
Dusenberry ushered in the era of big-money celebrity endorsements when he signed Michael Jackson for a Pepsi campaign. He also devised famous lines such as Pepsi's "The choice of a new generation" and General Electric's "We bring good things to life".
At the same time, he played a key role in the team that devised the "Morning in America" commercials that aided Ronald Reagan's re-election as president in 1984.
"Our industry has lost a legend," Andrew Robertson, the BBDO Worldwide chief executive, said. "Those of us who were lucky enough to work with Phil knew he always wanted more time to make it better. Sadly, he didn't get it this time."
Brooklyn-born Dusenberry joined BBDO as a copywriter in 1962. A lifelong baseball fan, he took a break from the network seven years later to start his own agency before moving on to co-author the Robert Redford movie The Natural.
At BBDO, the lingering memory of Dusenberry will be his perfectionism. "For all of us, BBDO meant Bring It Back and Do It Over", Steve Hayden, one of his former senior staffers, recalls.
Dusenberry's management style has drawn comparison with that of David Abbott. "Phil was never a shouter or a desk-thumper because he didn't need to be," a former associate says. "There was an aura about him because he had such astute judgement."
Baulk recalled going to a BBDO worldwide conference in Santa Fe with a rough cut of the Guinness "surfers" spot, later to become one of the most famous commercials of all time.
"It was nothing like anything anybody in US advertising had ever seen before," Baulk said. "But Phil got it first time."