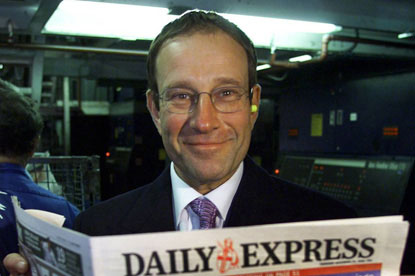 The group behind Express Newspapers, OK! Magazine and, since 23 July 2010, Channel 5, is set to file accounts at Companies House this week that reveal profits last year were more than three times the size of 2009's £8.9m.

Total group turnover has rocketed more than five fold, from £103.3m in recession-ravaged 2009, to £524.8m by 31 December 2010.

The group is expected to have been buoyed by double-digit growth in advertising revenues across its newspaper and magazine division, which incorporates The Express and Daily Star, OK! Magazine, new! and Star.

However, Desmond's team is particular keen to highlight the contribution Channel 5 has had on operations.

In what internal sources have termed "a transforming year" for Northern & Shell, the acquisition of Channel 5 for £99.1m last summer is already said to be "paying its way", following an £11m restructure.

Further details have not been provided, but the group claims once exceptional items are taken into account, which can be largely attributed to about £10m spent on voluntary redundancy, the broadcaster has been "profitable in its own right since September 2010".

The broadcaster is tipped to have contributed roughly half of the group's gross profit.

The claim that Channel 5 has been able to trade with underlying profits just three months after former chief executive Dawn Airey, and previous owner RTL, relinquished control appears to be evidence, yet again, of Desmond's ability to improve a business' margins.

That it coincided with a wider advertising recovery cannot be overlooked, nor should the fact that despite the strong recovery, Northern & Shell's pre-tax profits for 2010 remain below the £41m it achieved in 2008, before it acquired Channel 5.

A spokesman for Desmond stressed the addition of Channel 5 has enabled the group to attain "significant synergies" throughout its expanded media operations

Increasingly, Northern & Shell's commercial operations are said to be landing multiplatform ad campaigns across the group.

Group trading in general, and Channel 5's contribution led by Nick Bampton in particular, is expected to receive a further boost this summer when the broadcaster resurrects reality TV show Big Brother, starting with a Celebrity Big Brother series in mid-August.

It will be followed by a non-celebrity Big Brother, which will run for approximately three months.

Robert Sanderson, finance director at Northern & Shell, said: "The significant step changes we have made to the business in the last year leave us well placed to further improve our financial performance and to build on our broader media interests."

Northern & Shell is also set to unveil a new state-of-the-art print plant in Luton towards the end of 2011 for all its portfolio of titles. The entrepreneur could be looking at expanding his interests into contract publishing too, to maximise his return on investment.

The move comes despite speculation that Desmond has had many of his print assets valued recently, including the Daily Express and OK! Magazine.

A spokesman said: "Yes, everyone knows he can be very good at cutting-costs, but what's less acknowledged is how he's also been an incredible investor.

"Express Newspapers has continued to recognise the financial constraints on its recession-hit readers by promoting its titles through cover-price reductions and discounts at a cost of £43m.

"In recent months the company has also purchased The Health Lottery, which is scheduled to launch later this year."

Despite the investment, Northern & Shell was operating with £91.7m of cash on the balance sheet at 31 December 2010.

Last year, the media baron pledged to invest £1.5bn in Channel 5 over the next five years.