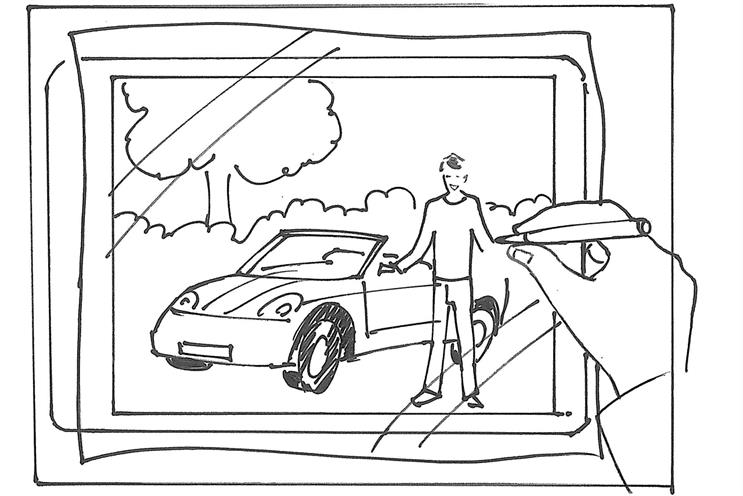 The best ideas, so they say, should fit on the back of a fag packet (or, in the case of Trevor Beattie's FCUK campaign, on a restaurant napkin). The best ideas also start with a scamp. The art of scamping remains as essential to a creative's existence as strong coffee and a lopsided view of the world.
Unless you are a true artiste, scamping traditionally involves the laborious task of printing out individual images, arranging them into a composition over a lightbox and then tracing them into one visual idea to present to an executive creative director – only to be told the idea isn't good enough and to do it all over again. Surely, with all the digital innovation flying around, there must be a quicker way?
VCCP believes it has the solution. The agency has launched an app called Ad Scamp, which was devised by the creatives Matthew Benney and Brendan Howell and aims to eradicate the old analogue approach to scamping. Throw out your lightbox and reach for your iPad. Download Ad Scamp (it's free) from the App Store and away you go.
This piece of tech allows creatives to import images from the iPad camera roll or Google Images and create a composition on screen. You can then move, rotate and scale the images with touch controls.
Once you are happy with the composition, press the trace button, which locks the screen and pumps the brightness up to full. Place the paper over the iPad and trace away using a non-permanent pen or pencil. No printing necessary.
Ad Scamp could herald the end of badly drawn scamps. Tumblr hosts a blog called Shit Scamps, set up by some cheery chap who thought it was funny to laugh at people's lame attempts. He was right. Timmy the angry tampon is currently on the home page.