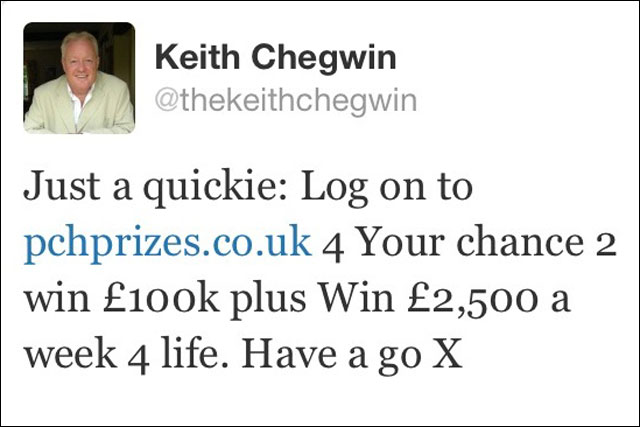 The 'It's a Knockout' presenter fell foul of the ad watchdog for the tweet on behalf of online sweepstake and shopping site Publishers Clearing House (PCH)

It read: "just a quickie: log on to pchprizes.co.uk 4 Your chance 2 win £100k plus Win £2,500 a week 4 life. Have a go X".

PCH defended itself by claiming the tweet was not prompted by them and claimed they had no role in the content of the tweet.

The sweepstake company admitted it had a "promotional relationship" with Chegwin, but added there was nothing in the contract that required him to tweet on its behalf.

PCH also argued that Chegwin, who has almost 120,000 followers, would not have misled anyone with the tweet, because he had written it to make it look like a commercial communication.

The ASA threw out PCH's arguments and ruled that the tweet "must no longer appear", because it was a marketing communication and had not been "obviously identifiable" as an advertisement.

Although the tweet contained a link to the PCH website, the ASA believed it was not clear from the tweet that Chegwin had a commercial relationship with the site.
In the absence of an identifier such as an "#ad" hashtag, the ad watchdog was not obviously identifiable as an ad and consequently misled Twitter users.

Follow @mattchapmanuk