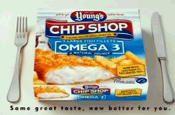 The ad, produced in-house, showed a plate of fish and chips, with the voiceover stating: "They're better for you because they're now less than 5 per cent saturated fat."

It also trumpeted the fact that the fish was a source of Omega3 oils.

Young's rival Birds Eye challenged the ad, claiming it implied the product was low in saturated fat and exaggerated the nutritional benefits.

The ASA said: "We noted that for a product to be low in saturated fat under EU Regulation 1924/2006, it should have no more than 1.5g of saturated fat per 100g of food product.

"Because the Chip Shop fillets had 4.6g of saturated fat per 100g of fish, but the ad implied the product was low in saturated fat, we concluded the ad was misleading."

It ordered that the ad is not shown again.

Young's marketing director, Yvonne Adam, said: "This commercial highlighted the obvious improvement in our new Chip Shop Omega3 fillets - in which we have reduced saturated fat by 40 per cent and which are now also a natural source of Omega3.

"We believe it quite clearly explained how the product is now better for you against our previous product - but obviously the ASA disagreed."