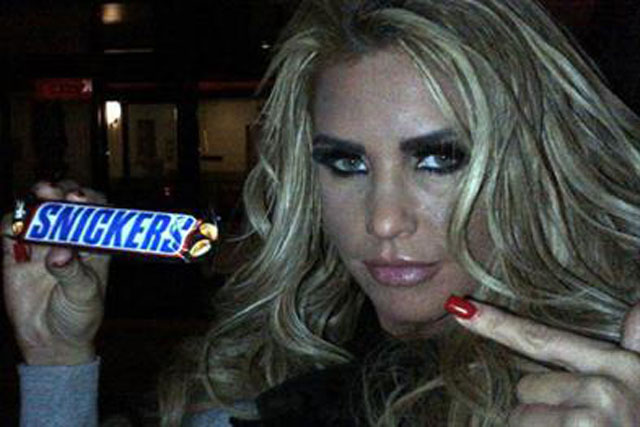 The Advertising Standards Authority (ASA) received two complaints about tweets from glamour model Price and footballer Ferdinand, which formed part of promotional activity for Snickers owner Mars, undertaken by Abbott Mead Vickers BBDO.
The celebrity tweets were probed by the ASA after they seemingly wrote out-of-character "teaser" Tweets about knitting and the economy, before posing pictures of themselves with the chocolate bar.
The tweets were investigated over two possible breaches of the advertising code: whether it should have been stated in the "teaser" tweets that they were marketing communications; and whether the hashtag "#spon" in the final "reveal" tweet made it clear enough that that tweet was a marketing communication.
Mars defended the campaign, saying it had considered in detail the extent to which the series of tweets were marketing communications, before launching the campaign.
Mars said that only the fifth and final tweet from the celebrities were examples of marketing communications and none of the first four tweets needed to be identified as such.
The CAP Code defines marketing communication as one which encourages consumers to be specifically identified with goods and services from the company responsible for distributing that communication.
Mars said it was difficult to see how the first four of the series of tweets could be seen as marketing communications, as no advertiser, products or services were mentioned.
Mars said that only when the final tweets were added could the campaign be regarded as marketing communication.
The advertising watchdog ruled in favour of Mars, saying it had not breached the CAP Code. It came to the decision because it said that Mars had made clear that the fifth and final tweet was an example of advertising, as it had included the text, "You're not you when you're hungry @snickersUk #hungry #spon …"
It also ruled that all of the tweets formed part of an orchestrated campaign, and said it was acceptable that the other tweets were not individually labelled as being part of the campaign, as it was obvious that they were part of it as they related to Snickers' "You're not you when you're hungry…" strapline.
The tweets were:
Can't wait 2 get home from training and finish that cardigan

— Rio Ferdinand (@rioferdy5) January 24, 2012
You're not you when you're hungry @snickersUk#hungry#spon lockerz.com/s/177408824
— Rio Ferdinand (@rioferdy5)
January 24, 2012
Large scale quantitative easing in 2012 could distort liquidity of govt. bond market. #justsayin

— Katie Price/Jordan (@MissKatiePrice) January 22, 2012
Price then tweeted the Snickers strapline, "You're not you when you're hungry @snickersUK #hungry #spon" and a picture of her holding a Snickers bar.
You're not you when you're hungry @snickersUk #hungry #spon lockerz.com/s/176796815

— Katie Price/Jordan (@MissKatiePrice) January 22, 2012
Follow John Reynolds on Twitter @johnreynolds10