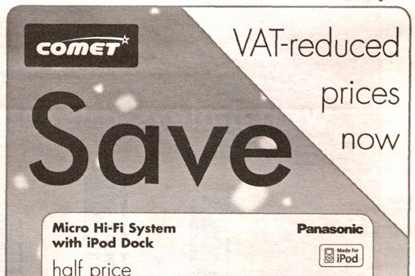 The ads promoted a 60GB console with four free games and a free extra controller for £166.

Three people made complaints to the ASA, challenging the availability of the Xbox package at the advertised price.

Comet said it had predicted that it would sell 2,500 units of the package over two weeks, having based the availability period on a previous deal advertising Xbox in the run-up to Christmas 2007.

The offer was due to run for one week despite the two-week advertised promotion as the advertiser recognised the popularity of the package.

The TV ad aired on 27 November and the press ad was published on 28 November.

Comet explained that two of the featured games became limited on 28 November, and although more were obtained, the games completely sold out by close of business.

Comet cancelled all subsequent press ads. However, as it was only made aware of depleted stocks by the end of the day on 28 November, there was no time to withdraw the TV ad, which was broadcast until 30 November.

The ASA noted that the ads stated that offers were subject to stock availability and that Comet had made a reasonable estimate of supply and demand for the Xbox package.

The watchdog felt therefore that the ads were not misleading and ruled that no further action was necessary.