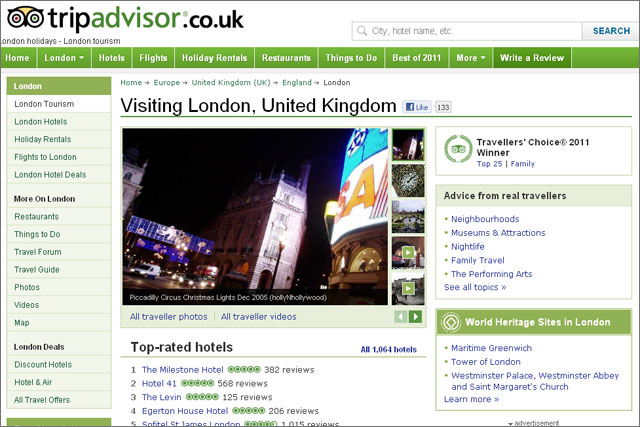 Kwikchex.com, an online reputation management firm, has presented a report to the ASA and the Federal Trade Commission (FTC) in the US. It claims there is a high level of defamatory comments hosted on the site.
It also claims TripAdvisor has "contravened its own guidelines" on screening every review before it is posted, and has ignored its own rules concerning "zero tolerance on fraudulent reviews".
The ASA confirmed it is formally investigating TripAdvisor's claims after receiving a complaint from KwikChex.
KwikChex.com said it has received more than 3,000 requests from across the globe from businesses and customers concerning review fraud, with 30% of complaints originating form the UK.
The online reputation firm is also challenging the claim that TripAdvisor's 50 million reviewers are from real travellers around the world.
KwikChex.com said it had highlighted examples of reviews that are "racist and bigoted and contain accounts of sexual attacks, offensive language, drug taking, prostitution and insults against named individuals".
Chris Emmins, co-founder of KwikChex, said: "Either their claims of efficient screening are false or they condone such behaviour on their site.
"TripAdvisor does not authenticate reviews as a matter of course, they do not even verify that the poster is a genuine customer of the business they are reviewing."
TripAdvisor issued a statement in response to the allegations, which said: "We believe the legitimacy of our reviews and opinions from real travellers is a key reason why we enjoy tremendous user loyalty and growth.
"Reviews are screened prior to posting and we have proprietary tools in place to help detect fraudulent reviews. We also periodically confirm the legitimacy of review authors."
In January this year, a row between TripAdvisor and 'Dragons' Den' panellist Duncan Bannatyne blew up following damning reviews of his hotel on the site.