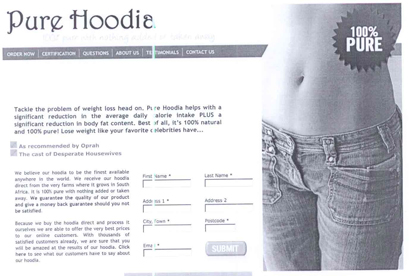 The ad claimed that: "Pure Hoodia helps with a significant reduction in the average daily calorie intake plus a significant reduction in body fat content. Best of all it's 100% natural and 100% pure! Lose weight like your favourite celebrities have… Order now for a free trial."

Bullet points stated: "As recommended by Oprah and the cast of Desperate Housewives."

Hoodia was described in further text and its source explained as being a plant found in South Africa.

One person challenged whether the weight-loss claims for the product could be proved and said that the ad was misleading as the front page did not communicate that postage costs were applicable to the free trial.

The ASA questioned whether the before and after photos used on the ad were genuine.

The watchdog also challenged the claim that the celebrity talk show host Oprah Winfrey and the cast of Desperate Housewives endorsed the product as stated in the ad.

Pure Slim said it had consulted the medicines and healthcare products regulator to ensure its product was compliant with MHRA guidance.

It also said it had consulted with Trading Standards regarding its postage and packing terms and customers were required to check a box to show they had understood the terms of the offer did not include postage costs.

The advertiser said that its claim of celebrity endorsement was sourced from internet and press coverage reporting that Winfrey and the Desperate Housewives cast had recommended or used Hoodia in order to lose weight.

The ASA felt that the details of postage costs should have been included on the front page of the ad and claims of the product's ability to aid weight loss were not supported by sufficient or scientific evidence.

Furthermore, Pure Slim was unable to provide evidence showing that Oprah or the Desperate Housewives cast had endorsed Hoodia or Pure Slim.

Therefore, the watchdog concluded that the ad was misleading and should not be shown again in its current form.