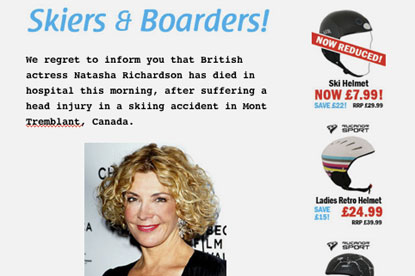 The e-mail, sent by ski and outdoor warehouse, skiwear4less.com, headed "Skiers & Boarders!", contained text referring to Richardson's accident in Mont Tremblant, Canada.

It stated: "The actress fell and hit her head during a supervised ski lesson on a nursery slope. She was not wearing a helmet at the time."

Further information was included detailing Richardson's condition and the later announcement of her passing.

The e-mail then changed tack and stated: "As a ski retailer and ski enthusiasts, our thoughts go out to the family during this tragic time. We hope this doesn't discourage future skiers from participating in this exciting and invigorating sport."

Additional text stated: "To encourage the wearing of ski helmets, we have reduced the prices of both kids and adults ski helmets and are offering FREE POSTAGE on all ski helmets."

The e-mail also included a picture of the actress alongside a number of ski helmets with prices.

Two people who received the e-mail felt it was offensive in its use of details of the actress' death in a bid to sell the advertiser's ski helmets.

The advertiser said the e-mail was a newsletter rather than promotional material and was sent in response to the news of the actress' death.

The ASA noted the intention of the e-mail was to promote the wearing of ski helmets to make the sport safer, but said that sensitive events must be dealt with more carefully. The e-mail was sent on the same day that the actress died, and the watchdog felt that reporting the event in such a manner in order to sell ski helmets was likely to cause offence and be conceived as insensitive to recipients.

The ASA concluded that the e-mail breached the CAP code and should not be used again.