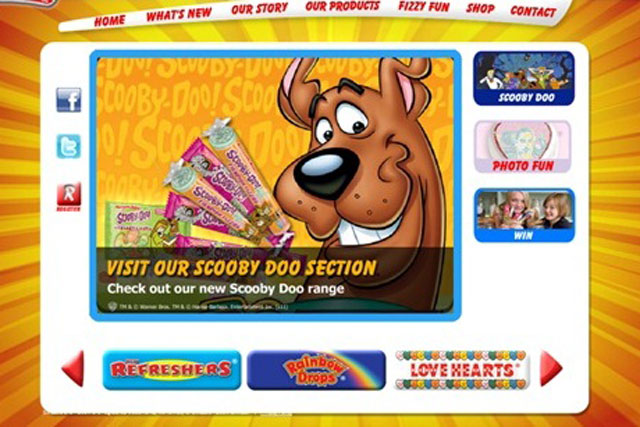 Sustain complained to the Advertising Standards Authority (ASA) that the Swizzels site encouraged poor nutritional habits in children and that the site was irresponsible for using a licensed character to promote sweets to kids.
The site, www.swizzels-matlow.com, was created in-house and has a dedicated interactive virtual section aimed at children, called 'Swizzels Town". It contains games and puzzles relating to the different sweet products the company produces, from Cola bottles to Drumstick lollypops.
Television advertising rules were tightened in 2007 to stop the use of licensed characters to advertise foods high in fat, salt and sugar. The ASA was asked to police their use on company websites when its online remit was extended last year.
Swizzels-Matlow received the licensing to create Scooby Doo-branded sweets in 2011, and it argued that the games and puzzles were not designed with the intent of encouraging purchase or excessive consumption. It stated that the Swizzels Town section was aimed at a family audience.
The ASA however, found the games to be using a licensed character to advertise food other than fresh fruit or vegetables to pre-school children, and ordered the materials to be amended or withdrawn.
The ASA also banned a 'Cola Capers' game, which was found to be aimed directly at children and to condone eating a large number of sweets, irresponsibly promoting poor nutritional habits. This part of the site must also be amended or withdrawn said the ASA.
Swizzels-Matlow removed the sections in question from the site overnight.
Jeremy Dee, director at Swizzels Matlow, said: "Following the ASA Council ruling regarding the inclusion of a licensed character and an online game on our website, we have removed all reference to them henceforth.

"We have never included licensed characters on any above the line advertising. We firmly believe that our confectionery should be consumed as part of a balanced diet and our products should be viewed as occasional treats for children and adults alike."
No other part of Swizzels Town was found to be in breach of the code.
Follow @loullamae_es