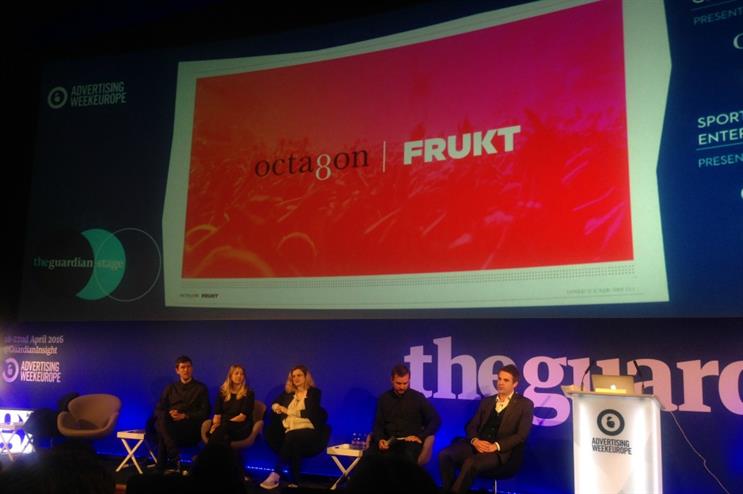 The session, named The Power of Live: Harnessing the Passion of the Live Experience, began with a discussion of ubiquitous content and the desirability of live experiences.
Adam Butters, planning director at Frukt explained that there is a wealth of content out there, yet millennials are much more interested in experiences than material possessions.
He noted that Netflix is looking to deliver 600 hours of programming next year, meanwhile 300 hours of content was uploaded to YouTube every minute in 2015.
"Live experiences are still a scarce commodity," Butters said. "There is simply not enough access to live experiences, and scarcity is driving their desirability."
He identified a series of live trends, including:
The rise of immersive experiences such as Secret Cinema.
A tendency towards impressive productions – "People are now having conversations about how they can make their sets Instagram-friendly," he said.
The return of human curation.
Participatory events such as You Me Bum Bum Train and Sofar Sounds' initiative. "People want to get involved, to be at the heart of these experiences," Butters explained.
Utlity – "Brands are building tools or services to help improve the attendee experience," he said. "Enhancing the experience but not getting in the way of the experience is a great way for brands to move forward."
Brands and sporting events
Joel Seymour-Hyde, SVP at Octagon looked at how brands are using the power of live in sport. "Sporting events differ greatly based on the type of sport, and brands need to tailor their activity accordingly," he said.
He went on to highlight the popularity of sporting events in the UK – 70 million people attended one in 2015 – as well as connectivity at such events, for example 77% of football fans use their smartphone at a game.
"It's all about brands adding value to attendees' live experience," said Seymour-Hyde.
He touched on a series of recent sporting examples, including Emirates' decision to tell its brand story at a live match, and KFC's move to reward selected customers by providing them with an exclusive Sky Box experience at a cricket game in Australia.
The panel session
Following the presentations Dom Hodge, managing director at Frukt facilitated a panel session with four speakers – Joanna Young, head of campaigns at Live Nation; Gareth Griffiths, head of sponsorship at O2; Will Brass, head of sales and marketing at The Premier League; and Caroline Drucket, head of strategic partnerships EMEA at Instagram.
He asked the speakers how brands can capitalise on live experiences, to which Drucket replied: "We encourage brands to think about how they are transmitting that feeling of actually being there at the event."
She explained that it's not usually the brands, or even artists featuring on the bill at music festivals that track well on social. "A lot of the time the people who are dominating these posts are social media influencers."
Brass said the Premier League's brand partnerships need to be genuine at events. "For us it comes back to authenticity. We want our partners to be complementary rather than destructive."
Griffiths added that customer loyalty is key at O2. "It's the most important thing for us. Fans are incredibly important to everything we do in live."
The role of content
The discussion touched on trends within content, and the panel agreed that it is pervasive. "A couple of years ago it was all about content is king, now it's: 'what content is it that's working?' It's not just generic content anymore," said Young.
Griffiths explained the brand's content approach is very much about quality rather than quantity. "We are spending more time thinking about content and producing a lot less of it. I think the quality is higher," he added.
Drucket said the amount of Instagram posts an individual publishes isn't an issue, so long as its contents are effective. "There shouldn't be a fear about posting too much, but rather posting content that is relevant to the audience."
Future predictions
Brass is interested to see how The Premier League can continue to leverage the popularity of football games, noting that matches enjoy a 96% attendance rate. "What excites me is how we use that platform to get even closer to people," he said.
At Instagram, "the future is all about video and how people make it authentic," said Drucket.
Young believes it's important that live experiences continue to improve. "The pre-festival experience is also important – brands should look at what they can do before people join the experience," she added.
Griffiths said the brand will continue to harness data to connect with people that visit O2 venues throughout the country. "The potential and scale of how we can talk to our customers is exciting for me," he explained.
More: Ad Week Europe: Plenty of opportunities for brands to embrace 'smart city' concept
Comment below to let us know what you think.
For more in-depth and print-only features, showcases and interviews with world-leading brands, don't miss the next issue of Event magazine by subscribing here.