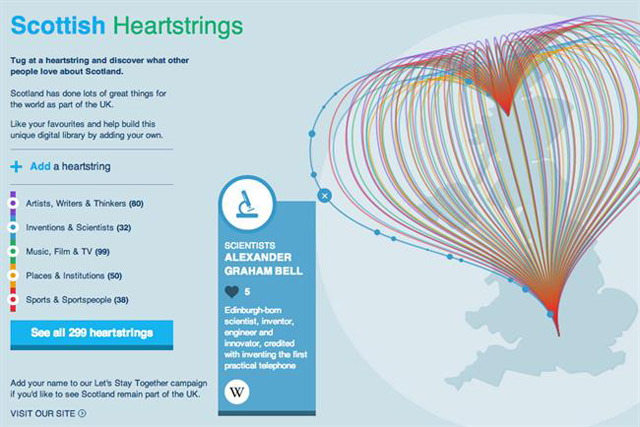 The Scottish Heartstrings site allows people to share what they love about Scotland by adding a "heartstring" onto an interactive map of the UK. There are five categories from which to choose, ranging from favourite bands, to most-admired sportspeople and great Scottish inventions.
The intent is to build a publicly generated digital library of Scottish achievements as part of the UK.
The Scottish Heartstrings site is live for one month leading up to the Scottish Independence Referendum on 18 September and is integrated with Facebook and Twitter.
The Let's Stay Together campaign was set up by MT Rainey and Andrew McGuinness to provide a positive voice for all of those outside Scotland who don't have a vote in the referendum, but care about keeping the UK together.
Rainey, the Let's Stay Together campaign principal, said: "This is another exciting element in our campaign and one which I think people will have a lot of fun with. Scotland's achievements have been significant, far-reaching and, I think, disproportionate, and they have been made as part of the United Kingdom.
"We want this to be a celebration and, of course, a stimulus to sign up."
James Murphy, the founder and chief executive of Adam & Eve/DDB, who worked with Rainey at Rainey Kelly Campbell Roalfe/Y&R, said: "So much of the debate so far has been negative.
"Heartstrings is a fun and social way of expressing the positive passions that make Scotland and the rest of UK better together."