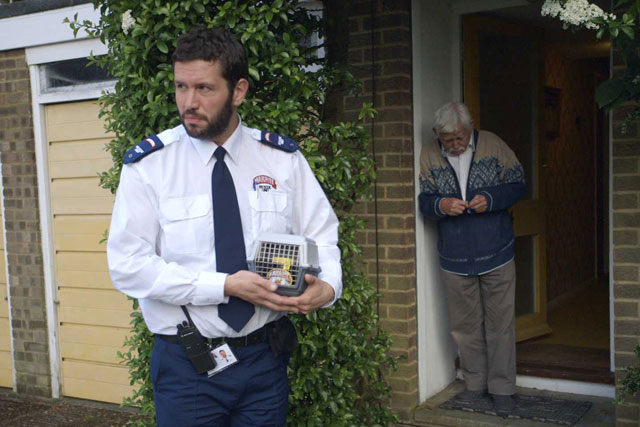 A&E/DDB's "rescue" spot for Marmite won Commercial Of The Year, as well as gold in the Confectionary and Snacks and Best over 60- and up to 90-second TV Commercial categories.
McDonald's was given the award for Advertiser Of Excellence and Outsider was named Production Company Of The Year.
Meanwhile, Bartle Bogle Hegarty's executive creative director, Nick Gill, was given the Chairman's Award, and BMB's Christopher Keatinge and Dan Bennett won Best New Creative Team for their "Simon the ogre" ad for Thomson Holidays.
Other gold-winning ads were: Eurostar "stories are waiting in Paris" by Abbott Mead Vickers BBDO; Channel 4 "born risky: alternative voices" by 4Creative; Department for Transport "morning after" by AMV BBDO; Tango "argh!" by BBH; Guinness "Sapeurs" by AMV BBDO; John Lewis "bear and the hare" by A&E/DDB; Harvey Nichols "sorry I spent it on myself" by A&E/DDB; British Army "boots" by JWT; Honda "hands" by Wieden & Kennedy, and Sainsbury's "Christmas in a day" by AMV BBDO.
Robert Campbell, the chairman of the British Arrows and the founder of Outsider, said: "The Arrows are a special and wonderful event, and 2014 has been another record year, with 618 entries, which were painstakingly whittled down to 16 gold and 47 silver winners.
"A massive thanks goes to [Wieden & Kennedy co-executive creative director] Kim Papworth for doing a fantastic job of heading up this year's jury.
"And thanks also go to the 21 jury members, who gave up so much of their time and showed great passion and insight. They spent three long days in careful debate and deliberation. The result, I am sure you will agree, is a brilliant representation of the last year's work."
List of winners in full:
Chairman's Award:
Presented to Nick Gill, BBH
Commercial Of The Year
Unilever - Marmite "rescue" made for Adam & eve/DDB by Outsider, directed by James Rouse
Agency of the Year
Adam & Eve/DDB
Production Company of the Year
Outsider
Advertiser of Excellence
McDonald's
Best New Creative Team
Gold
TUi Travel, Thomson Holidays "Simon the ogre" created by Christopher Keatinge and Dan Bennett from BMB
Best over 60 and up to 90 second TV Commercial
Gold
Eurostar "stories are waiting in Paris" made for AMV BBDO by hla, directed by Simon Ratigan
Unilever Marmite "rescue" made for Adam & Eve/DDB by Outsider, directed by James Rouse
Silver
Marie Curie Cancer Care Great Daffodil Appeal "symmetry" made for DLKW Lowe by Blink, directed by Tom Tagholm
Volkswagen Start/Stop Technology "baby" made for Adam & Eve/DDB by Outsider, directed by James Rouse
Diageo Guinness 'Sapeurs' 90" version, made for AMV BBDO by MJZ, directed by Nicolai Fuglsig
Bronze
Vodafone Mobile Network Coverage "the kiss" made for Grey London by Academy Films, directed by Frederic Planchon
Television and Radio Station Promotions
Gold
Channel 4 Born Risky Continuity "born risky: alternative voices" made by 4Creative, directed by Alice Tonge
Silver
Channel 4 Grand National "street race" made by 4Creative, directed by Keith McCarthy
Bronze
NBC, NBC Sport's Premier League "an American coach in London" made for The Brooklyn Brothers NY by Moxie Pictures, directed by Martin Granger
Public Service Advertising
Gold
Department for Transport Drink Driving "morning after" made for AMV BBDO by QI Productions, directed by Dominic Savage
UK TV Series
Gold
Britvic Tango "cornershop", "park" and "footy" made for BBH by Biscuit Filmworks, directed by Tim Godsall
Silver
Sainsbury's "army, kids, dancing and tree" made for AMV BBDO by RSA Films, directed by Kevin MacDonald
Alcoholic Drinks
Gold
Diageo Guinness 'Sapeurs' 90" version, made for AMV BBDO by MJZ, directed by Nicolai Fuglsig
Silver
Carlsberg "the ride" made for Santos by MJZ, directed by Juan Cabral
Aldi Stores Ltd Aldi Champagne "Champagne" made for McCann Manchester by Coy! Communications, directed by Mark Denton and Fern Berresford
Diageo Guinness 'Sapeurs' 5' version, made for AMV BBDO by Stilking, directed by Héctor Mediavilla
Bronze
Brown-Forman Corporation Southern Comfort "shampoo" made for Wieden & Kennedy New York by Biscuit Filmworks, directed by Tim Godsall
Best Integrated
Gold
John Lewis Christmas "bear and hare" created by Adam & Eve/DDB
Silver
St John Ambulance "save the boy – interactive film" created by BBH
Harvey Nichols Christmas "sorry I spent it on myself" created by Adam & Eve/DDB
Unilever Marmite "neglect" created by Adam & Eve/DDB
Sainsbury's "Christmas in a day" created by AMV BBDO
Bronze
Hutchinson 3G Three Mobile "pony" created by Wieden & Kennedy
Fashion
Gold
Harvey Nichols Christmas "sorry I spent it on myself" made for Adam & Eve/DDB by Outsider, directed by James Rouse
Recruitment
Gold
The British Army "boots" 90" version, made for JWT by hla, directed by Simon Ratigan
Confectionery And Snacks
Gold
Unilever Marmite "rescue" made for Adam & Eve/DDB by Outsider, directed by James Rouse
Vehicles and Automotive Products
Gold
Honda UK "hands" made for Wieden & Kennedy by Nexus, directed by Smith & Foulkes
Silver
Volkswagen UP! "tall girl" made for Adam & Eve/DDB by Gorgeous, directed by Chris Palmer
Volkswagen Start/Stop Technology "baby" made for Adam & Eve/DDB by Outsider, directed by James Rouse
Bronze
Mercedes-Benz Magic Body Control "chicken" made for Jung von Matt/Neckar by Big Fish, directed by Daniel Warwick
Best over 90 second Cinema Commercial
Gold
Honda UK 'Hands' made for Wieden & Kennedy by Nexus, directed by Smith & Foulkes
Silver
John Lewis Christmas "bear and hare" made for Adam & Eve/DDB by Blinkink, directed by Elliot Dear and Yves Geleyn
Harvey Nichols Christmas "sorry I spent it on myself" made for Adam & Eve/DDB by Outsider, directed by James Rouse
Retail
Gold
Sainsbury's 'Christmas in a day' 3.5' version, made for AMV BBDO by RSA Films, directed by Kevin MacDonald
Silver
John Lewis Christmas "bear and hare" made for Adam & Eve/DDB by Blinkink, directed by Elliot Dear and Yves Geleyn
Harvey Nichols Christmas "sorry I spent it on myself" made for Adam & Eve/DDB by Outsider, directed by James Rouse
Best over 90 second Web Based Film
Gold
Sainsbury's "Christmas in a day" made for AMV BBDO by RSA Films, directed by Kevin MacDonald
Silver
Cybersmile "#DONTRETALIATE" made by Rattling Stick, directed by Ed Morris
Harvey Nichols Christmas "sorry I spent it on myself" made for Adam & Eve/DDB by Outsider, directed by James Rouse
Honda UK "hands" made for Wieden & Kennedy by Nexus, directed by Smith & Foulkes
Household Soaps, Detergents And Toiletries
Silver
Unilever Lynx Apollo "fireman" made for BBH by Biscuit Filmworks, directed by Tim Godsall
Bronze
Unilever Lynx Apollo "lifeguard" made for BBH by Biscuit Filmworks, directed by Tim Godsall
International
Silver
Arla Foods Lurpak "weave your magic" made for Wieden & Kennedy by Outsider, directed by Scott Lyon
Vodafone Mobile Network Coverage "the kiss" made for Grey London by Academy Films, directed by Frederic Planchon
Bronze
Unilever Dove Brand "camera shy" made for Ogilvy & Mather by Epoch Films, directed by Everynone
Direct Response
Silver
Business in the Community "second chance" made for Leo Burnett London by Blink, directed by Dougal Wilson
The British Army "boots" 60" version, made for JWT by hla, directed by Simon Ratigan
Telecommunications Services (Networks) and Products
Silver
TalkTalk "date night" made for CHI & Partners by Academy Films, directed by Si & Ad
Hutchinson 3G Three Mobile "pony" made for Wieden & Kennedy by Blink, directed by Dougal Wilson
Vodafone Mobile Network Coverage "the kiss" made for Grey London by Academy Films, directed by Frederic Planchon
Best 60-90 Second Cinema Commercial
Silver
The Prince's Trust "bad press" made for CHI & Partners by CHI Lab, directed by Jonathan Burley
Charity
Silver
Save the Children - Christmas Jumper Day 2013 "The Killing does Christmas Jumper Day" made by Contagious London, directed by Paul Weiland
St John Ambulance "save the boy" made for BBH by Blink, directed by Dougal Wilson
Cybersmile "#DONTRETALIATE" made by Rattling Stick, directed by Ed Morris
Bronze
Business in the Community "second chance" made for Leo Burnett London by Blink, directed by Dougal Wilson
Best 20 second TV Commercial
Silver
Aldi Stores Ltd Aldi Champagne "Champagne" made for McCann Manchester by Coy! Communications, directed by Mark Denton and Fern Berresford
Best over 30 and up to 60 Second TB Commercial
Silver
Hutchinson 3G Three Mobile "pony" made for Wieden & Kennedy by Blink, directed by Dougal Wilson
Volkswagen UP! "tall girl" made for Adam & Eve/DDB by Gorgeous, directed by Chris Palmer
St John Ambulance "save the boy" made for BBH by Blink, directed by Dougal Wilson
Sainsbury's "Christmas in a day – army" 60" version, made for AMV BBDO by RSA Films, directed by Kevin MacDonald
Bronze
BBC One Christmas "acting masterclass" made for RKCR/Y&R by Red Bee Media, directed by Kjetil Njoten
Best 60 - 90 second Cinema Commercial
Silver
Marie Curie Cancer Care Great Daffodil Appeal "symmetry" Made for DLKW Lowe by Blink, directed by Tom Tagholm
Vodafone Mobile Network Coverage "the kiss" made for Grey London by Academy Films, directed by Frederic Planchon
Volkswagen Start/Stop Technology "baby" made for Adam & Eve/DDB by Outsider, directed by James Rouse
Eurostar "stories are waiting in Paris" made for AMV BBDO by hla, directed by Simon Ratigan
Best Over 90 second TV Commercial Using Paid For Media
Silver
Channel 4 Born Risky Continuity "born risky: alternative voices" made by 4Creative, directed by Alice Tonge
John Lewis Christmas "bear and hare" made for Adam & Eve/DDB by Blinkink, directed by Elliot Dear and Yves Geleyn
Honda UK "hands" made for Wieden & Kennedy by Nexus, directed by Smith & Foulkes
Best 30 - 59 second Cinema Commercial
Silver
Department for Transport Drink Driving "morning after" made for AMV BBDO by QI Productions, directed by Dominic Savage
The John Webster Award for Best 30 second TV Commercial
Silver
Britvic Tango "footy" made for BBH by Biscuit Filmworks, directed by Tim Godsall
Bronze
Paddy Power Bookmaker "ball of shame - new season launch" made for Crispin Porter & Bogusky London by Rattling Stick, directed by Andy McLeod
Financial
Bronze
John Lewis Insurance "things matter" made for Adam & Eve/DDB by Blink, directed by Dougal Wilson
First Direct Banking "platypus" made for JWT by Outsider, directed by Dom & Nic
UK TV Series
Bronze
Expedia "Bulgaria", "Himalayas" and "New Zealand" made for Ogilvy & Mather by Moxie Pictures, directed by Frank Todaro
Best over 30 and up to 60 second TV Commercial
Bronze
Kristian Dean Audi RS 6 Avant "the ring" made for BBH by Academy Films, directed by Jonathan Glazer