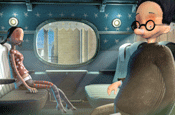 The appointment is not thought to affect the bank's relationship with Rainey Kelly Campbell Roalfe/Y&R, the incumbent on the main £40 million advertising business.
WPP, the owner of RKCR/Y&R, is understood to be considering what, if any, action it could take against the start-up on the grounds that the deal contravenes the agency's non-compete clause.
Both WPP and Adam & Eve refused to comment. Lloyds TSB secured the first Tier One sponsorship, along with sister-brand Scottish Widows, in 2006.
The bank recently unveiled Jonathan Edwards, the triple jump Olympic gold medallist, and Ade Adepitan, the Paralympic basketball player, as its official ambassadors for the games.
Scottish Widows has already launched Olympic themed TV ads and is, this year, extending its above-the-line budget by 50 per cent in order to capitalise on its association with London 2012.