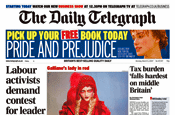 The publisher has also chosen AMP, which partnered the start up on the pitch, to handle its direct marketing.
The agencies picked up the business following a final shoot-out against TBWA and Tequila.
Rapier and Archibald Ingall Stretton were both dropped from the pitch at an earlier stage.
The appointments are effective immediately and Adam & Eve will be charged with delivering a wide range of creative and marketing solutions, particularly in the digital arena.
Mike Moore, the executive director of consumer markets, said: "Adam and Eve and AMP impressed us with their clear understanding of our business and enthusiasm for the brand.
"They demonstrated strong creative ability and expertise across marketing disciplines. It is clear that both agencies share TMG's vision and strategy approach, and we're looking forward to developing a close partnership with them going forward."