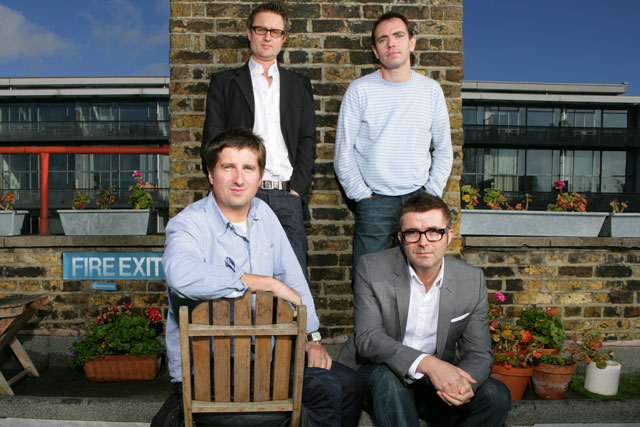 When the call came through from the US late on Tuesday evening that the acquisition had been approved at an Omnicom board meeting, the Adam & Eve founders were in a hotel bar after a dry trade event. Appropriately, they were with the client who has done more than any other to shape the fortunes of the agency: John Lewis' Craig Inglis. Champagne was swiftly ordered.
While the Omnicom deal to merge with DDB UK propels them up the advertising rich list, Adam & Eve's founders must surely hope that their return to a holding company is rather less turbulent than their exit from WPP. When Murphy, Priest, Golding and Naked's former head of strategy Jon Forsyth opened the agency for business in January 2008, they did so embroiled in a bitter legal dispute with Sir Martin Sorrell.
This centred on allegations that Murphy, Priest and Golding were in breach of contract when they set up Adam & Eve. The bloody battle was only resolved in November 2009, one week before the case was due to be heard in the High Court, with a confidential settlement rumoured to be in excess of £700,000 and a humbling apology from the trio.
But bitter and distracting as it was, the war with WPP didn't hold the agency back. Within just three months of launching, Adam & Eve had firmly put down its marker, picking up accounts including The Telegraph and Westfield London.
Westfield was quickly sacrificed for the prized John Lewis account, which has come to define Adam & Eve's creative output – whether either party likes it or not – and, in 2010, it was named Campaign's Agency of the Year, with John Lewis landing the Advertiser of the Year accolade. By the time Adam & Eve's sale was concluded on Tuesday night, the agency had revenues of around £8 million and billings of £80 million.
In contrast, DDB's fortunes over that period have seemed rather less ascendant. When Stephen Woodford arrived (at roughly the same time that Murphy, Golding and Priest were hatching their start-up plans), the agency had been without a dedicated chief executive for almost two years. It has still not really regained its management strength.
Last year, DDB won Virgin Media in a blaze of integrated glory, but the business went up for pitch again before 2011 was out. The agency also lost its Philips account and its executive creative director, Jeremy Craigen, who went to head creative on the global Volkswagen account. These losses left holes that appear to be conveniently Adam & Eve-shaped.
THE A&E STORY
July 2007: James Murphy, Ben Priest and David Golding resign from RKCR/Y&R
January 2008: Adam & Eve opens for business
March 2008: Bell's, Telegraph Media Group and Westfield become the start-up's first clients
September 2008: Ben Tollett and Emer Stamp are poached from DDB UK as its first creative directors
February 2009: John Lewis hands the agency its £20 million account
April 2010: Launches "never knowingly undersold" campaign for John Lewis. Appointed by Foster's and Save the Children
December 2010: Named Campaign's Agency of the Year
February 2011: Halifax shifts its £25 million business into the agency
November 2011: Launches "the long wait" Christmas spot for John Lewis
May 2012: Sells to Omnicom and merges with DDB. Becomes Adam & Eve/DDB