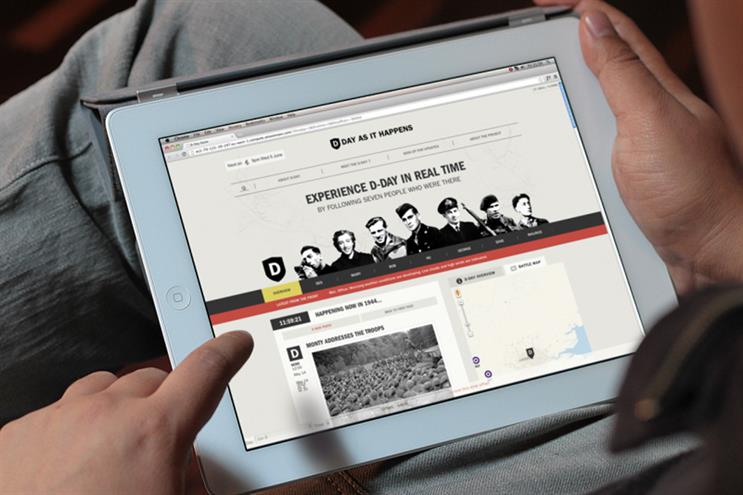 Tell us something about this project. It began as a simple premise – what would happen if we told yesterday's news through today's technology? Mapping more than a thousand pieces of archive footage, photos, radio interviews and personal testimonies to a database that could reliably deliver live updates to multiple devices and channels, in a range of graphic styles and in sync with the TV, was a little more challenging. The project's success, I think, was in its ability to create such a strong emotional connection with the audience. The response on Twitter to the death of Ronald "Dixie" Dean was particularly moving, almost surreal.

How accurate are the timings and how can you be sure? They are amazingly accurate. It took Colin Henderson 15 years of painstaking research to cross-reference official accounts with clues in the archive footage such as insignia, ship numbers, facial recognition, the position of the sun and even the time on a soldier's watch.

How did you get into your current job? A clichéd creative path: disillusioned academic to art school. Art school to portfolio touting. Lucky break to Altogether [now WCRS] to VCCP to Digit.

What inspires you? The list would be too long. I get so easily sucked in by people who are passionate, people who know everything there is to know about stuff.

What are you working on next? Diesel is the next big thing on the horizon. It is also keen to invest in multichannel experiences, although I am sure what we produce for it will strike a very different tone. I'm also working on a project with a famous cellist to visualise his music, recording his movements and cross-referencing this "data" with the notes he plays.

Which figure from history would you most like to meet? CB Fry would've been good company. Played football for England and rugby for the Barbarians, won the world 100-yard dash in 1894, captained the England cricket team without losing a test, equalled the long jump world record while at school (cigar in hand, apparently), wrote speeches for the League of Nations, stood as MP for Brighton, would reportedly jump backwards on to his fireplace as a sort of party trick, and was once even offered the throne of Albania.