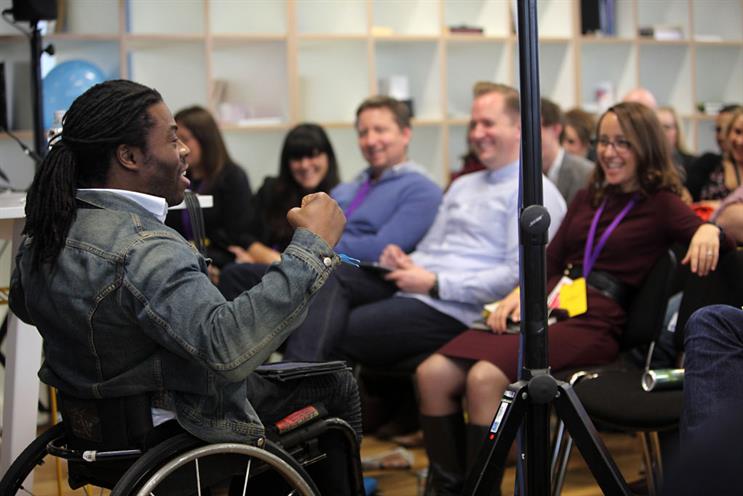 For Ade, his life is at the heart of his work, even though it's hardly been an easy journey. Having survived polio as a child then moving from Lagos, Nigeria, to East London with his parents aged just three, Ade never let his physical disability, caused by polio, hamper his dreams of sporting greatness.
(If Ade ever wanted to swap documentary making for a career in stand­up, the story about his first day at school, standing in the playground goal in his pink flares and callipers, making an unlikely but heroic debut as goalie, had the whole session in stitches).
He knows only too well the power and impact good TV can have. At 13, when he watched the 1984 Olympics on his mum and dad's black and white TV, he was inspired by the spectacle and the sheer talent of the athletes.
Live broadcasting recognition for Paralympic sports came many years later, as did Ade's own Paralympic career at Sydney 2000 and Athens 2004, by which time he was presenting the BBC children's TV show Xchange. 'Xchange sent a TV crew to cover my progress at Athens. For the first time on children's television wheelchair basketball was being shown live,' he recalls.
However, for some time Ade only treated his invitations to broadcast on TV as minor achievements. 'I'd never seen many black people or anyone disabled on TV,' he recalls. 'At first I turned down offers of an agent because I didn't really get what it was all about. Twelve years later, to end up presenting the Channel 4 Paralympic coverage alongside Clare Balding, actually anchoring a live show, was amazing.'
Winning a BAFTA for that show has been a major highlight of his career, but he also treasures the show's achievement in helping the Paralympics gain recognition. 'I thought, if by 2013 you can ask someone on the street to name a British Paralympian, that would be our goal.
It is so satisfying because so many of these guys are now household names. 'We wanted to change perceptions of disabled sport and Channel 4 let us be ourselves. We challenged old fashioned views, we had fun. We had Public Enemy as the theme tune, Public Enemy!'
Now with a career in documentary making, Ade told the session host, Teads managing director Justin Taylor, how he believes that passion is the key to communicating with any audience. 'It's all about finding a passion. I had some very dark times when I wondered if what I was doing was worth it, but my passion for sport kept me going.
And when you're doing live TV, sure you have to watch your language, but if someone's just broken a world record – be passionate, show the audience what it means to you. If you're passionate about something, you'll get the energy to work those extra hours, and you'll have the potential to inspire people and change the world.'