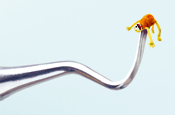 The film, called Night of the AdEaters, showcases more than 350 ads from a host of countries, including Russia, China and the United Kingdom.

The UK screening, which was organised by the IPA, hopes to attract advertising professionals as well as arts and culture enthusiasts.

Labelled as an "advertainment phenomenon", the show originated in France in 1981, and now has shows in more than 150 cities across 52 countries.

A recent screening in Poland attracted almost 7,000 people.

To promote the event, which takes place at London's Bloomsbury Theatre, Euro RSCG London has created an advertising campaign, which plays on the concept of "ad eating".

The ads, which break this week, depict the Duracell bunny on dental floss, a drumming gorilla on a toothpick, coloured balls in a toothbrush and Flat Eric on a dental probe.