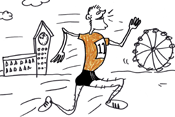 The assignment will see Iris manage strategy, advertising and retail and experiential marketing for the brand's running products.

The category, which is part of the sportswear company's "sports performance" range, is aimed at serious runners, rather than general consumers.

Recent campaigns include the "it's what happens between runs" poster, which showed marathon runners in everyday situations.

Iris, which was already on the Adidas roster, previously produced work such as the "polar" campaign, which promoted a training system that allowed runners to integrate heart-rate monitors with their training equipment.

Shaun McIlrath, the joint executive creative director of Iris Worldwide, said: "This appointment by Adidas signals our emergence as a global creative force.

"As an agency, we admire Adidas and share a common view of the world, so we're delighted to be given the honour of leading such an important category."

180 Amsterdam remains Adidas' lead creative agency across the rest of its sports-performance business.