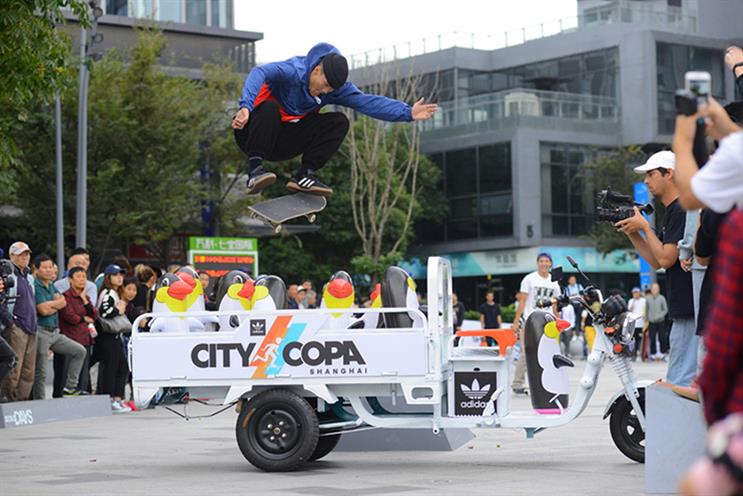 Adidas brought its outreach activity, Das Days, to the skateboarding community in Shanghai over the weekend – the event's first appearance in the region after a debut run this year in Los Angeles, New York, São Paulo and Paris.
Working with brand experience agency Jack Morton, the sports brand set up a community centre and pop-up at 322 Anfu Lu, the trendy district located in the former French concession. Running until 20 October, the outreach activity is timed with the global launch of a product collaboration with skateboard brand Alltimers later this week.
The activity draws heavily on the street-art origins of skateboarding, with a slew of exhibitions and live music performances lined up for the nine-day event. A group of skateboarders participated in a day-long skateboarding exursion around the city last weekend and were treated to a house party held later that night at Yuyintang. Meanwhile, the skateboarding line of Adidas has its own global creators series Showcase X, which offers a creative platform for artists from the community.
Among the Chinese street artists featured in the exhibitions are established names such as Fancask and emerging players including Sheep Chen, Hurricane, Soils, Rainbo and Sars. The exhibitions also spotlight photos taken by renowned skate photographer Zander Taketomo during his recent trip to Shanghai.
The city currently has three skateboard parks, including the SMP Skatepark, which is the third largest in the world. "China has a really interesting scene, slightly underground, but emerging here and there in pockets across the country," said Glenn Walker, director of action sports, APAC, at Adidas Skateboarding. "But Das Day is not about making a huge noise. It's about getting to the core of what skateboarding is about and giving the community a voice. It's street-level and it's downtown, slap bang in the middle of the city."
A version of this story was first published by Campaign Asia.