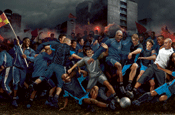 180 Amsterdam, Droga 5, Avenue A/Razorfish and Isobar are understood to be involved in the process, which is being run out of Adidas' Amsterdam headquarters.

It's thought that the sportswear giant is looking for a fresh approach to advertising across digital platforms.

Adidas' rival Nike has had success in digital advertising over the past two years, including the Nike+ campaign, created by R/GA, which won the Cyber Lion Grand Prix at Cannes in 2007.

In recent years, the Aegis-owned Isobar has handled the majority of Adidas' UK digital campaigns.

The company's most recent UK work, created by the Isobar-owned glue London, was called "impossible story" and allowed users to create a personalised animation based on the "impossible is nothing" TV ads.

The Isobar agency Marvellous launched a global mobile campaign in January based on its football brand ambassadors to raise awareness of its Predator and F50 boots.

Isobar also handled Adidas' entry into Second Life, a store that offered users the chance to try and buy Adidas trainers.

180 Amsterdam is an Adidas roster agency and was responsible for its Euro 2008 ad campaign, which saw the world's biggest stars visit the smallest footballing nations. Droga 5 and AvenueA/Razorfish have also worked on a project basis for the brand.