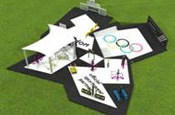 The 'adiZones' will be constructed in each of the London host boroughs - Tower Hamlets, Greenwich, Hackney, Newham and Waltham Forest. The Tower Hamlets venue opens today, with a guest appearance by Olympic 400m gold-medallist Christine Ohuruogu.
The venture is part of Adidas' pledge to invest £100m in the Games, although the brand says it hopes its investment will be matched by the government-backed National Sports Foundation.
The venues will be free for local people to use. A team of Adidas 'activators' will promote the facilities to people in the local communities, schools and sports clubs. They will also encourage local coaches to visit the sites and then recruit young athletes to their clubs.