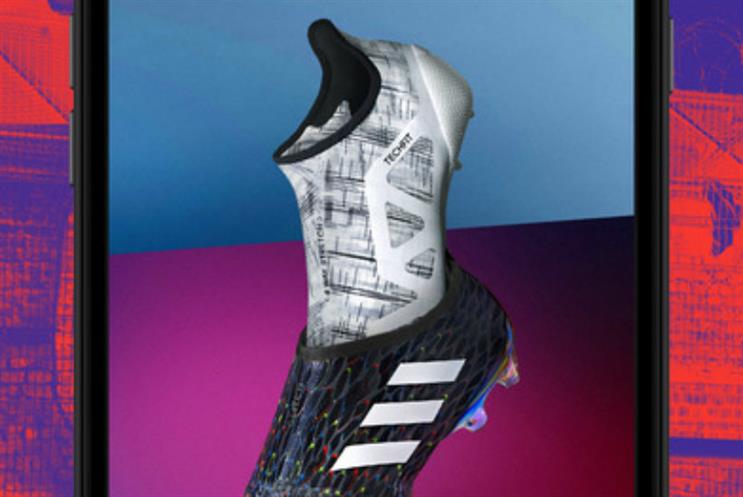 Consumers who want to buy the boots will need an invite code to buy them via the Glitch app.
Once they have a code users will be able to create a bespoke boot by choosing a combination of an inner shoe with an outer skin.
The Glitch boot is being marketed as the world's first interchangeable boot, which features an inner shoe that provides a "snug fit and enhanced comfort", while the laceless outer skin offers "perfect ball control".
The sales process also comes with a personal fitting and trial session. When bought before 5pm the boots will be hand-delivered to a location of the customer's choice within four hours, if the customer lives in London.
The boots are being unveiled by a group of young footballers from across London, including Chelsea FC's Ruben Loftus-Cheek, as Adidas attempts to connect with its customers in a "totally new way".
Florian Alt, senior director of global brand communications at Adidas, said: "On-demand culture was one of the starting points when we started developing the Glitch concept.
"When we look at consumers now, kids are dictated to in when they're buying new products by when brands drop their product lines. We thought, 'How cool would it be to come with an approach where the kid is in control of when he wants to purchase shoes, and which shoes?'"
Alt added the launch of Glitch was a "completely revolutionary approach" for Adidas.
Consumers are only able to uncover the product codes to unlock the ability to purchase the boot by tapping into the exclusive community.
Adidas said it had enlisted the help of YouTubers The F2 Freestylers for development and testing for the new boots.
The F2 Freestylers will help with the launch of Glitch by promoting the boots amount their seven million-strong subscribers on YouTube.
Iris is the creative lead for Glitch launch campaign, while the app was designed and built by Possible and the backend mobile shopping experience was created by Newstore.
Glitch will be launched initially with a choice of six outer skins and four inner shoes and each week Adidas will release new designs and invite fans to have their say on the design.
Adidas Football general manager Markus Baumann said: "Glitch is not only a market leading innovation, it's also a chance for us to challenge, change, and break the existing pattern in the football boot business."