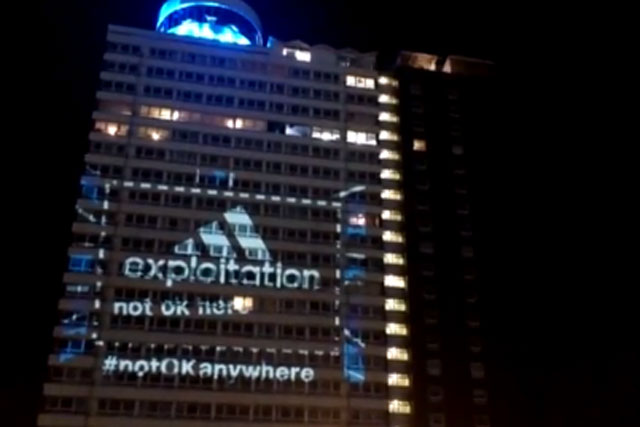 Pressure group War on Want projected a 65ft-high image onto Dennison Point last night (5 August), proclaiming "exploitation – not OK here, not OK anywhere", underneath the Adidas logo.
It claims it projected the image on the tower block at 10.30pm-11pm to target people leaving the Olympic Park after the 100 metres final won by Usain Bolt.



War on Want claims Adidas has already sold £100m-worth of Olympic clothing [which the company revealed in its financial results last week] and alleges workers making its goods around the world are paid poverty wages and are having to skip meals to survive.
Adidas factory workers near the Cambodian capital Phnom Penh receive £10 a week basic pay, are forced to work overtime, cannot afford decent food and live in squalid conditions, according to War on Want.

The pressure group also claims Adidas workers in the Philippines, Indonesia, Sri Lanka and China are struggling to survive on well under a living wage.
Adidas provided the following statement in response to War on Want's allegations:
Adidas respects the right to peaceful protest, but we strongly refute War on Want's claims. We take all allegations about working conditions extremely seriously, but it is very important to note that the independent women's NGO Phulki, which visits our factories on a monthly basis, found absolutely no evidence to support the allegations being made.
The Adidas Group is fully committed to protecting worker rights and to ensuring fair and safe working conditions in factories throughout our global supply chain. As part of that commitment, we recently contacted War on Want on two separate occasions to discuss the claims made in their last report, but we are yet to hear back from them on this.
We have enjoyed an open and constructive dialogue with many NGOs for years, but it seems War on Want are more interested in pursuing a strategy of disruption rather than engaging with us to talk about these issues.
Adidas is confident we are adhering to and, in fact, exceeding the high standards set by LOCOG and we would urge War on Want to deal in fact rather than fiction.
Follow @mattchapmanuk