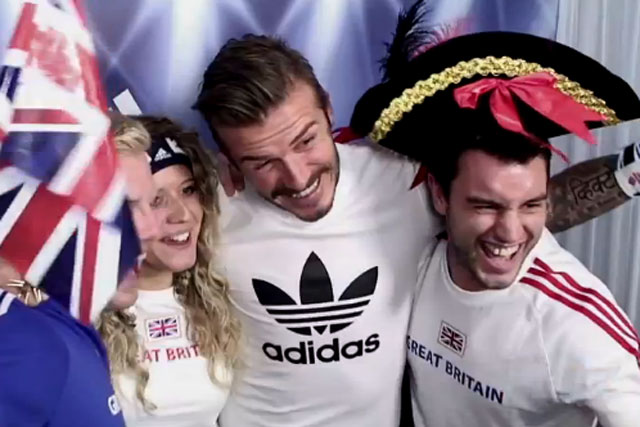 The sportswear giant, which was a tier-one domestic sponsor, now has 117,973 followers for its Adidas UK account, compared to Nike UK's 14,578.
Adidas started four non-paid for trends during the Olympics, including #takethebaton during the Opening Ceremony.
Its official hashtags were mentioned 146,078 times over the 17 days of the event, according to data from Sysomos.
A video of David Beckham surprising members of the public in an Adidas photobooth has received three million views on YouTube to date.
The stunt attracted 6,000 mentions of #takethestage on that day (24 July), when Beckham took part in a question and answer session as part of the campaign.
Adidas also hosted live question answer sessions with Team GB athletes, including Jessica Ennis, Sir Chris Hoy and Tom Daley, who have some of the largest Twitter followings of any Team GB athletes.
The video Adidas made of Team GB miming Queen's 'Don't Stop me now' amassed 2.7 views in four days since launch (13 August). Adidas rounded off its Twitter activity with a paid-for campaign for the Closing Ceremony, with the promoted trend "teamgb #stagetaken".
According to separate data from social video specialist Unruly, Adidas' top ads have had more shares in social media than rival Nike.
It found Nike's top 10 most-shared ads during the Olympics gained a combined total of 192,907 shares, while official Olympic sponsor Adidas's top 10 gained 226,866 shares in total.
Nick Craggs, UK marketing director at Adidas told Marketing that Twitter was an "important platform, which allows us to have a constant dialogue with both the next generation athletes, and fans of the brand".
"It was important to communicate with them [athletes] via the channels that they use."
He said: "We wanted to ensure that our #takethestage and #stagetaken hashtags became social currency and we are delighted with the results we have delivered."
Follow @shearmans