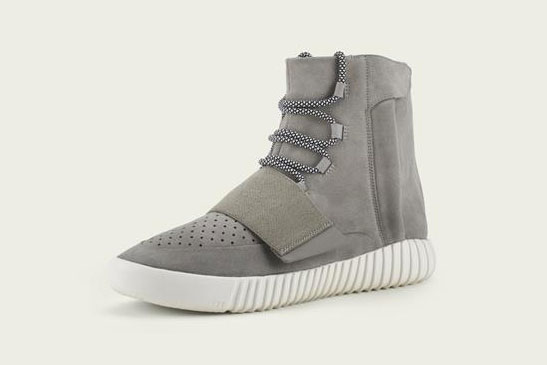 Adidas signed West in 2013, with the Yeezy line intended to boost sales in the US, where it has been steadily losing ground to Nike and newer rival Under Armour.
Analysis of Adidas' results shows that the firm's revenues in the US have been dropping between 2011 and 2015.
In 2011, the firm's US sales stood at €3.1bn, falling to €2.97bn for the full year 2014.
Its performance in 2015 has been more positive on a quarter-by-quarter basis, with first quarter sales coming in at €591m, rising to €643m for the second quarter and again to $776m for the third quarter.
But that recent turnaround isn't down to the Kanye effect, according to NPD analyst Matt Powell.
"When I look at the data, the Adidas growth is not coming from any styles even vaguely associated with West," he told Marketing. "Sales have been negative most of the time since West's signing."
Part of that is due to the line's limited availability.
According to Powell, there have been fewer than 50,000 pairs available to retailers. "We sell more than 300m pairs of sneakers in the US each year, so 50,000 is negligible," he said.
He added: "The sales of the shoe have not offset that [$10m] expense."
Powell points out that any halo effect from West should have kicked in much earlier, and that 2015's improving sales performance is down to Adidas' own hard graft.
"Adidas made many changes and moved more than 100 people from Germany to the US to get the product right," he said. "The entire Adidas US team has worked tirelessly to get the products right. Those changes are the reason for the recent turnaround."
The Kanye collection has generated huge hype, with the Kardashian family, Anna Wintour and Jay-Z all turning up to see the latest sneakers at the Yeezy New York Fashion Week show this month.
But in Powell's view, the Yeezy line's actual sales performance is proof that superstar endorsements rarely pay off, particularly when the brand fit is off.
He says: "In footwear, it all comes down to product. If the product is wrong, the greatest marketing campaign will not matter.
"Adidas' products were wrong for the US market. I do not believe that so-called "influencers" have a great impact on sales. Product is much more important than who is getting paid to wear shoes."
Still, one person is happy with the collaboration. Kanye West this week tweeted out his appreciation for Adidas for allowing him complete freedom with his "creative process".
Adidas has really made all the difference …
— KANYE WEST (@kanyewest)
February 16, 2016
Thank you Adidas for supporting my creative vision …

— KANYE WEST (@kanyewest) February 16, 2016