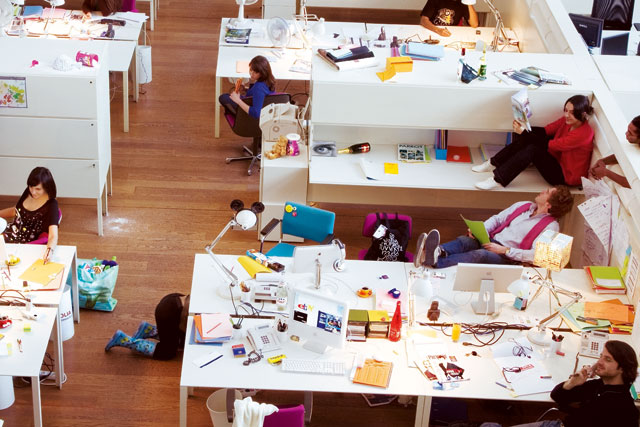 So, you've just graduated and you'd like to get paid to hang out with creative types at a company with its own bar and foosball table and wear trainers to work.
Well, advertising might just be the place for you.
However, at a time when student debt could qualify your average graduate as a charity case, the relatively low starter salary and long hours at your dream agency may take some of the fun out of the foosball.
The industry that gave us the four-hour lunch can't possibly live up to its glamorous mythology in an age of austerity when clients are demanding more for less. Nonetheless, the number and zeal (see our Diary story, page 35) of the latest crop of grads seem relatively undeterred.
Zoe Osmond, the chief executive of Nabs, the charity organisation that runs a career advice line for graduates, notes that there are still plenty of people who want to get into the business. But, for many, the working conditions present an issue.
"The first question people considering getting into advertising ask themselves is: is the lower wage worth it?" Osmond says. " They feel it's worth the creative opportunity, the breadth of client base and working in an exciting creative environment. But their peers in other industries are getting paid a lot more."
Many graduates go into a new agency being led to believe that they are the next Don Draper because they have been through such a rigorous process. But once they are in, they are shunted from one meeting to the next and that special feeling can quickly fade.
Osmond maintains that fast-tracking talented young grads as quickly as possible is one way to keep the industry desirable for them.
And the Beattie McGuinness Bungay co-founder Andrew McGuinness believes fast-tracking is what advertising does best. "Advertising is more meritocratic than other industries," he explains. "The ability to fast-track is one of the unique offers."
However, some agencies stand accused of pigeonholing graduates far too early in their careers. The Work Club chief executive, Martin Brooks, argues that the industry is archaic when it comes to recruiting: "There seems to be a distinction made really quickly as to whether the person coming in is a designer, art director or strategist."
He suggests that it is wrong and old-fashioned to force people into one discipline early on and much better to allow them to try out every area in the advertising industry before specialising.
"At Work Club, we make sure new recruits have a stint in every discipline, such as account handling, strategy or design," Brooks says.
But what about the money? McGuinness notes that the university fee rise coming into force is likely to be an issue, but maintains his belief that graduates have never been attracted to advertising for the cash. Instead, it's the creative opportunity and being rewarded based on merit that really draw people to the industry.
"I get ten to 15 e-mails a day enquiring about opportunities at BMB. And I don't see any slowdown in the number of applicants," he says. "Advertising is still an attractive industry if my inbox is anything to go by."
Got a view? E-mail us at campaign@haymarket.com
GRADUATE - Adam Glasner, planner, Abbott Mead Vickers BBDO
"I think advertising can still be very attractive, although I do believe the industry itself could still do more to attract young people.
"When I first started on a grad scheme three years ago, I really had no idea about the opportunities that exist within advertising. It's only since working on different brands and with other disciplines that I've seen the variety in the day to day.
"Getting over the irony of advertising's lack of self-promotion, I think greater involvement from the agencies and industry bodies, emphasising the varied nature of the job, could make advertising stand out among other career options."
GRADUATE - Alexander Brown, planning assistant, Vizeum
"I am lower-paid than my friends in the City, but from week one I was involved in the decision-making at the agency.
"At a planning meeting in my first week, they were discussing targeting consumers when they were feeling unhappy in order to make them happy. I studied psychology and learned that it is better to target people when they are happy, because they are more receptive and pay more attention to their surroundings. So I said I didn't think this is quite the right strategy, and people listened. The whole meeting changed its focus.
"It was nice to be able to contribute so much on day one, and I don't think that happens in the same way in other industries."
GRADUATE - Jonny Durgan, copywriter, Bartle Bogle Hegarty
"Yes, advertising still appeals. I think the only problem is that advertising is under-represented in education: I can count the number of decent advertising courses on one hand.
"The effect of this is that graduates come out of university with portfolios that aren't up to scratch, so they have to spend another year or two on placements playing catch-up in order to be industry-ready.
"It doesn't mean that advertising isn't attractive; where else do you get so much variety from day to day or have your hard work in front of millions of people? If graduates are willing to stick at it, they'll see there's no better career out there."
GRADUATE - Dominic Weiss, account executive, Adam & Eve
"Advertising is still very attractive, because you have the freedom to define what you do. There's no advertising handbook telling you how to be the perfect account man or planner. You have the freedom to develop your own style, your own personality, your own blueprint for getting the job done.
"Adam & Eve is a strong advocate of fostering individual flair. For a grad, this means you get real responsibility early on and there are opportunities to go beyond your account management duties and delve into strategic thinking.
"Most importantly, though, it means your point of view counts for much more than just a grad."