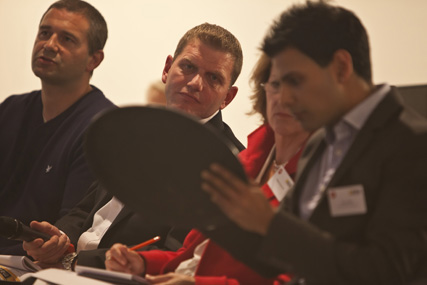 Not so long ago, ex-waitress Alison Grieve would probably have got short shrift from any agency she approached for help to promote her invention that aims to spare blushes and extra dry-cleaning bills.
Indeed, if the Safetray is a success, those embarrassing moments when drinks-reception chatter is drowned out by the sound of shattering glasses will be no more.
And all thanks to a retractable handclip underneath the device that even allows a bottle of wine to be placed at the edge of the tray without risk of accident.
It certainly allowed Grieve to clean up in a Dragons' Den-style competition run this month by the Marketing Agencies Association and the Government-backed StartUp Britain initiative to encourage more small-business entrepreneurs.
As a result, the agencies Proximity, Iris, Exposure and RPM will provide her with creative ideas and marketing advice free of charge for a year.
"It's a delightfully simple idea with real commercial possibilities," Scott Knox, the MAA's managing director, says. "In fact, had she been on Dragons' Den, everybody would have wanted to put cash in."
It's hard to imagine, though, that any of the agencies now willing to work for nothing on Grieve's behalf would previously have been so welcoming. However, with marketing budgets revised downwards for the third consecutive quarter, according to the IPA's latest Bellwether Report, the MAA's message that the UK's entrepreneurs represent significant growth opportunities for adland has been powerfully underpinned.
Ever since the dotcom bubble burst, agencies have been wary of small businesses with big ideas. Even if they knew how to pick the winners, most felt their limited resources were better concentrated on more profitable existing clients and new business.
Now, Knox believes that more of the entrepreneurial passion shown by Grieve and her fellow finalists is needed within agencies - and in client company marketing departments - if the marcoms business is to help pull the UK out of the economic doldrums.
AGENCY HEAD - IAN PRIEST, HEAD OF CHIME VENTURES, CHIME COMMUNICATIONS
"Agencies continue to be wary of entrepreneurial businesses because of what happened to them when the dotcom boom went bust. But it's important to remember that not all such businesses are high-tech and also just how important entrepreneurialism and innovation are to Britain's future.
"It's also worth bearing in mind that entrepreneurial businesses won't necessarily remain small. Look at what happened to Google, Facebook and Twitter. Entrepreneurial companies have never had such opportunities to grow as quickly as they do now.
"As a service industry that's going to play an increasingly bigger part in our economy, we're well-positioned to help.
"That's because our talent pool is good. It used to be that we always had to battle with the big financial institutions for the best people. But those aren't the places that they want to go to now."
AGENCY HEAD - IAN MILLNER, CHIEF EXECUTIVE, IRIS WORLDWIDE
"The more we as an industry can do to stimulate the business of smaller and more innovative companies, the more growth there will be - and that's got to be better for everybody.
"Marketing services is key to this because we have the talent and know-how to collaborate with these start-ups. We're able to make sense of what they're doing and ensure that they have a business idea that not only fulfils a real need but will be attractive to investors.
"For some time, agencies have jockeyed for position as business partners. Now they have to show that they can really be what they claim they are because Brand Britain needs a strong marketing industry."
BUSINESS MINISTER - Mark Prisk, Business and Enterprise Minister
"Advice for advertising and marketing is one of the resources available through StartUp Britain, and this is, of course, a vital component in starting and growing a successful business.
"The Government is committed to making Britain the best place in the world to start and grow a business. If we are to promote growth in our economy, we need to support entrepreneurs and small businesses by addressing the challenges they face.
"We are doing this in a number of ways: ensuring we have a predictable tax system that rewards endeavour; enabling better access to both debt and equity finance; reducing red tape; making sure that the support we provide businesses is delivered in the most effective and efficient way possible; and transforming the experience of young people to build enterprise ambition and capability. It is also vital that the private sector helps to create the right conditions for businesses to start and grow."
ENTREPRENEUR - DOUG RICHARD, FORMER DRAGONS' DEN JUDGE; FOUNDER, SCHOOL FOR STARTUPS
"As the founder of School for Startups, which has mentored, coached and supported many entrepreneurs, it's my experience that advertising is a very creative industry that doesn't give a huge amount back and has never done much to encourage growth of entrepreneurial businesses.
"I think one notable exception to that is the One Young World charity established by Euro RSCG, which has been doing a great job.
"In the past, agencies have been reluctant to become involved because they couldn't see how they could get a significant return on their investment. But that assumes all entrepreneurial businesses will remain small. That's actually not true. And it's been recognised by a number of US agencies, particularly on the West Coast, which have been willing to take on entrepreneurs because they recognise their potential."