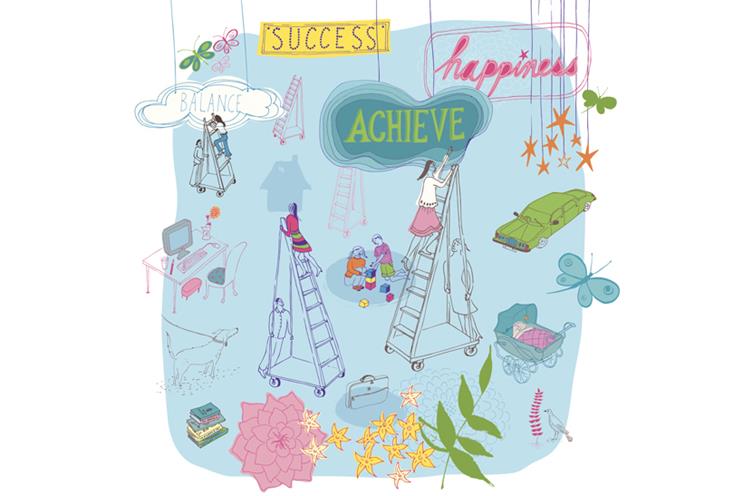 Adopting new working practices may be at the top of the business agenda but, according to Timewise and Deloitte's A Manifesto for Change: A Modern Workplace for a Flexible Workforce report, workers in the UK are currently paying a high price for flexibility.
Karen Blackett, WPP's UK country head, said: "Unfortunately, there is a generation of leaders in industry who believe that men need to work in a certain way, and that flexible working is frowned upon. We need to normalise that situation. If you have your leaders being open and flexible about how they work, that permeates throughout the organisation."
According to Blackett, the problem that we have about flexible working is that "presenteeism can still be a dominating factor in a number of businesses".
Adland's flexibility problem
The advertising industry, with its long-hours culture, faces its own particular marketing challenge when it comes to flexible working. Creative director Natalie Turton recently revealed in Campaign, that her job offer was retracted after she asked to leave the office three times a week at 5pm.
Kate Tweed, who is now business director at Duke, also wrote eloquently about her previous agency employer, which, when she returned from maternity leave, reduced her salary by 26% while to all intents and purposes keeping her workload exactly the same.
She wrote: "Because I had to leave 'early' to pick up my child I felt like a secondary citizen within the agency. My friends in the industry tell me the same. That or they just have to work even longer hours than they did before to prove themselves all over again. My ambitions did not evaporate the second I gave birth. Nor did my ability to deliver projects to the high standard I was always known for."
Paying the flexibility penalty
The research suggests that Turton's and Tweed's experiences are not isolated incidents. According to the report, one in three (30%) of survey respondents (92% of which were women) felt that they are regarded as having a lower status and importance because of their flexible working pattern. One in four (25%) felt they were given access to fewer opportunities and missed-out on potential progression and promotion opportunities. And a further one in four (28%) felt disadvantaged because they couldn't attend work-related events outside of working hours.
Karen Mattison, co-founder and joint CEO of Timewise, says that flexible working currently faces a "marketing challenge" in many businesses. She says: "I have always thought we don't have the right language around flexible working. The conversation is always around individual concessions."
According to Mattison, while some businesses "really are making the change" many employees either can't access flexible working or cannot progress within their businesses when they work flexibly. "People are really nervous about it because we have swallowed the myth of presenteeism," she explains.
New role models
The report also addressed how feminised the conversation around flexible working currently is. It urged businesses to use male employees who work flexibly as role models. "I like to celebrate men who work flexibly, but I think if we can encourage more, that would help promote further change," says WPP's Blackett.
According to the report, men must challenge - and be allowed to challenge - the stereotypes that persist, especially at the very senior levels of business. "They must step up and show that it's okay to work flexibly to break down out of date gender stereotypes and demonstrate this is an important issue for everyone," she adds.
To drive positive change, the study urges businesses to design flexibility into jobs as the norm. As Cilla Snowball, group CEO and group chairman of Abbott Mead Vickers BBDO, says, managers must be "braver about trying new solutions".
Calling out 'dinosaur managers'
According to the report, managers and leaders who do not support flexible working, or who "overtly block it", must be "called out". Team colleagues who consciously or unconsciously undermine flexible workers must not be allowed to continue doing so.
Keith Howells, chairman of Mott MacDonald, says the biggest challenge [in driving flexible working] is that of "dinosaur managers". He says: "I've been working in this business 40 years and we've always had a contract that says you are going to work 40 hours a week, but how many people actually work 40 hours a week? We don't clock on and clock off, so why expect presenteeism? What is it? Why can't we trust people to do what they are supposed to do because that is what it comes back to."
This trust is a particular issue in working environments in which employees are expected to be "always on". Katie McQuaid, director of Amazon Marketplace UK, explains: "Think about what norms you are setting in terms of people being expected to be available 24/7 and what that means. I don't think leaders communicate what they are expecting and I don't think employees communicate their concerns about it."
Chasing tangible targets, not headlines
All too many companies simply appropriate the language of flexibility without implementing the structural changes within their business to support or elevate it. The report suggests setting targets to track progress.
David Sproul, senior partner and chief executive at Deloitte, agrees: "One of the reasons we are very keen on targets is that target setting is a fairly provocative process. Some people think they are great, some people think they are terrible.
"We think targets drive behaviour; it drives action so we have been very clear that we think that this is right for our business as well as our people. We expect every part of our business to be encouraging it. Managers have to take real actions day to day in how they are encouraging people to work."
Timewise's Mattison, describes the evolution of flexible working in the UK as being akin to the take-up of the iPhone. "In the beginning only the early adopters want it but it is becoming normal but it is still the minority," she says.
However, according to Mattison, businesses cannot afford to stand still as a new generation of talent demands more autonomy from the companies they work with. She says: "It is the most exciting shift this whole idea of having it all being predicated on having wrap around childcare and working 8am until 8pm is being thrown out."
Instead, a generation who seek a balanced life and the ability to pursue their passions afford businesses the opportunity for true transformation.
How to embrace the opportunity afforded by flexible working
The study highlights that the barriers to successfully embedding flexible working are mainly cultural, such as the attitudes and behaviours of managers. A majority of respondents agreed that organisations need to step away from passive policies and approaches, and instead:
1. Create a workplace culture in which people are judged on the work they do rather on the hours they work (7 in 10)
2. Recruit and train managers who truly support their team to achieve work/life balance (7 in 10)
3. Implement a range of suitable flexible working options (6 in 10)