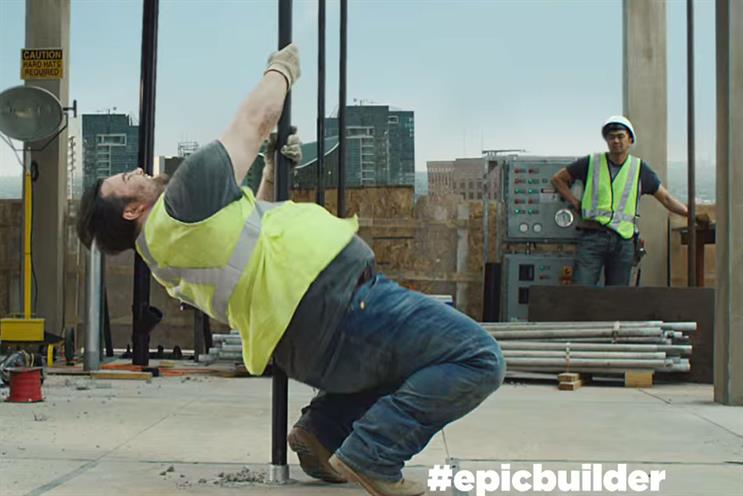 A male cheerleader. A pole-dancing builder. A rhythmic-gymnast farmer. Recent discussions, such as the furore around the Protein World posters, may focus on shedding negative female stereotypes, but it would seem that images of men are also shifting. Stereotypes, of course, are an easy shorthand for creatives. But advertising should reflect society – and society is changing. Ads are showing men as more active participants in the home. Take Saatchi & Saatchi's "princess" for Richmond, which shows a father feeding and playing with his daughters – with no mum in sight. Others, such as Moneysupermarket.com's "Colin", by Mother, show men celebrating success by doing traditionally female activities.
There have even been changes in "male" categories such as beer. Last week, Foster's waved goodbye to its long-standing agony uncles with a spot featuring a male cheerleader, while John Smith's ad in May starred a male gymnast. Do these ads show it is time to consign the "hapless man" and "alpha male" to the bin in favour of a more nuanced portrayal of men?
Agency chief
Tammy Einav, managing director, Adam & Eve/DDB
"Advertising has always traded in stereotypes. All good storytellers seize on these characterisations to develop universally and quickly understood narratives.
"What we are seeing increasingly, however, is how enduring male stereotypes are being portrayed in far less traditional settings and lifestyles – and about time too. After all, isn't the 'modern man' just as comfortable with a spatula as he is with a spanner?
"This said, all too often these more sensitive, creative and caring men are portrayed as feckless, lazy and at times totally inept. We need to be careful that in moving away from one extreme, we don't fall straight into another one."
Creative
Justin Tindall, group executive creative director, Leo Burnett London
"Unless it is the specific intention of the advertising itself, it is not the role of advertising to challenge social stereotypes.
"Good advertising reflects the society in which it's created. In that context, its portrayal of men should be relatable. Men do go to the pub. Men do like sport, cars and porn.
"But men also like to dance, put on make-up, have sex with other men and stay at home to look after the children.
"These are societal truths and good advertising should embrace them all."
Agency chief
Rick Hirst, chief executive, Mcgarrybowen
"I'm not sure there's an issue with male stereotypes in ads. The depiction of women is a far more acute problem.
"These ads aren't doing anything new in their depiction of men. I remember Lynx 'pulse' from 2006 that showed a skinny bloke dancing in a bar – a big departure from its usual casting brief but it felt right for the ad at that time.
"Other than celebrities, I can't recall any aspirational male role models in ads today. Humour still seems to be the default approach to reach men, probably because we're simple beasts. The new beer ads might not be four men in a pub, but it's still laddy humour."
Creative
Billy Faithfull, executive creative director, WCRS
"Selling chunky chocolate on the misogynist ticket or hawking yoghurt to girls with the 'aren't all blokes idiots?' line always felt pretty lazy to me. We've come a long way since Johnny Vaughan told women not to expect help on a Thursday.
"So, yes, I applaud any work that departs from stereotypes. But I don't think the driving force behind these campaigns is a more nuanced portrayal of men. It's entertainment and selling stuff while avoiding social media grumpy faces.
"Good thing too. The collective male conscience isn't crying out for help from advertising and the world's got bigger fish to fry."