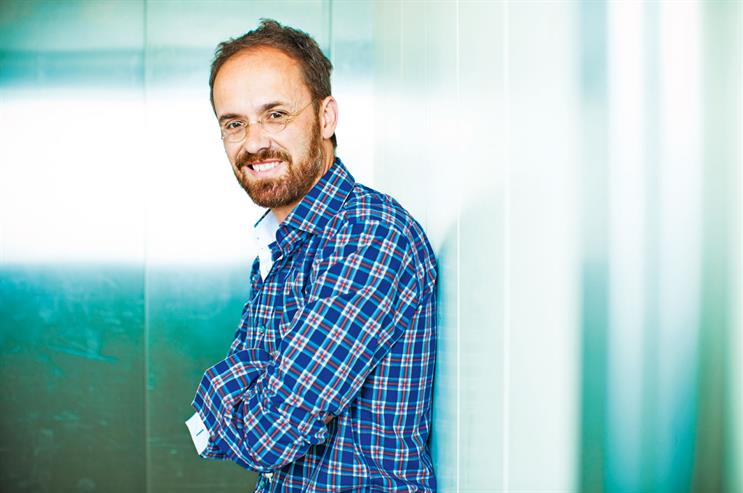 Let's be honest: there has never been a more exciting, demanding and challenging time for successful (brand) communication. Everything is changing. That may be nothing new but, today, it is particularly significant. If we can rely on one thing nowadays, it is that change is ever-quicker.
The consequences make their presence felt in all areas of life: whether private or professional, small or large. Everything is more volatile and non-binding. Stable, long-term relationships have become worth fighting for. This applies to the interpersonal relationships as well as to those between people and brands. And we have seen more and more over the years how important it is to establish stable relationships between people and brands.
How do we create such strong relationships? Serviceplan Group has a 45-year record of innovative communication; but, in 1970, the job of introducing people to brands was completely different than it is today.
In the past, brands would initiate contact with consumers in the media world in order to sell in the real world. The situation today? We are talking not only about multichannel but omnichannel communication.
The reason for the change is digitisation, which has changed and continues to change everything. New technologies create new possibilities, channels and ways to attract potential customers at ever-shorter intervals.
Over the past few years, we have all experienced the transformation of the monologue from brands to consumers into a dialogue. We have seen simple message-giving evolve into storytelling. Now, social media and content strategies are the norm. Smartphones are revolutionising the use of media, which revolutionise the interaction between brands and shopping behaviour. We are all talking about big data, touchpoints, advertising impact, multiscreen, digital signage, beacons, mobile-first, sustainability… the list is endless.
Some years ago, when the various communication disciplines started to reach out to each other, the concept of integrated communication arose. "Online must be integrated into our communication" was the catchphrase, and so classical advertisers invited digital to the briefings. Also from this time comes the term "online extension". Remember? Everyone initially thought that they could continue familiar and established classical communication on an online platform. Online was seen as "optional". A popular exercise, for example, was (and unfortunately still is) to put bizarre variations of TV spots online to go viral. That or a ten-minute making-of video on YouTube.
It has all worked out well (more or less). Those involved – the marketing agencies, consumers and media – have gained experience in new technical and technological pos­sibilities, devices and channels.
Meanwhile, we have made further big steps in realising that each channel can stand alone, each with its own qualities. TVs, computers, tablets, smartphones, print and out-of-home are all used by differing target groups in different ways. Consumers now expect content and offers to be tailored to the particular context of use.
All communication activities have a clear role in a "measures mix", in which the components are intelligently linked and synchronised. Thus the concept of the "leading" medium has been overtaken.
The focus today is no longer on pure integration or extension. Rather, it is that all communication activities have a clear role in a "measures mix", in which the components are intelligently linked and synchronised. Thus the concept of the "leading" medium has been overtaken. We no longer need leading media ; we need perfect "team players". We should make people, not channels, the focus of communications planning.
However, studies show that people are losing brand loyalty. So how can bonds be strengthened and consolidated, or, in the case of new clients, created? In theory, it is simple: brands need to hit the right note with their consumers and address them emotionally, because it is especially emotional factors that create trust and loyalty to a brand. Purely rational arguments, such as the quality of the product, are no longer sufficient.
Brands need to define products not only through their benefits but also their emotional values in order to differentiate themselves. Finally, values are the foundation of brand trust, which in turn is a prerequisite for loyalty from customers. Value-based marketing is key to success.
Fundamental to this approach is that the values embodied by a brand match those of the buyer. We need to ensure that brand, campaign content and media environment in which the campaign appears best match. Only if the value-fit between media, brand and consumer is optimal can a campaign unfold to its full effect. For us, this means analysing the DNA of the brands we manage in detail. Agencies must understand brands, buyers, creation and media environment values in order to connect them.
Synchronised communication planning with a theme – the story we want to tell – helps us, and makes the creative process more effective than ever. This clarifies individual roles and priorities. There is no longer talk about integrating further, and mostly irrelevant, channels or extending content from A to B. No, each discipline can focus on the strengths of its medium. Seen from a distance, the parts of the mosaic fit perfectly, revealing the "bigger story".
Serviceplan Group today employs more than 2,300 people at more than 30 locations. All are interlinked. And we are synchronised.
Alexander Schill is the chief creative officer at Serviceplan Group