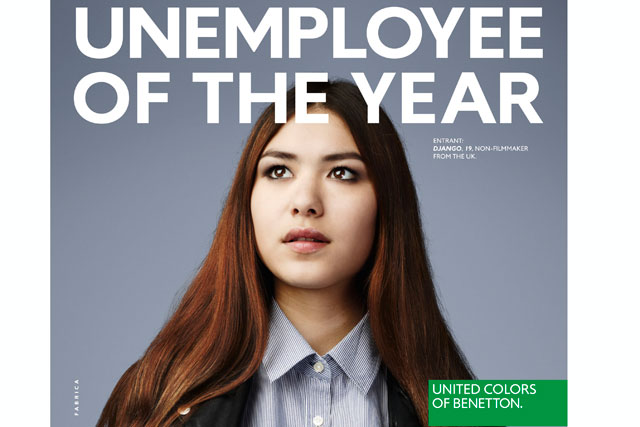 THE ADVOCATES
Just what does Gianluca Pastore think he's doing? With Benetton struggling to get its profits up - and its mojo back - its worldwide communications director is at the forefront of a campaign that reaches out to the world's impoverished, jobless and disenchanted youth.
While nobody in their right mind would dispute the plight of this "lost generation", it's equally true that few of its number are going to have much cash to splash on colourful knitwear displayed by Benetton's 6,500 stores in 120 countries any time soon.
Indeed, some would argue that the newly launched "unemployee of the year" campaign - which will account for around a fifth of Benetton's current marketing spend - is the mark of a company that has got its priorities seriously askew.
With its ballooning debt and stiffer competition from rival high-street fashion chains such as H&M and Zara, Benetton has also been hit by rising prices of raw materials, particularly cotton, and an overdependence on crisis-ridden southern European markets.
The task of changing the company's fortunes now falls to Alessandro Benetton, a one-time Harvard student and the son of its founder, Luciano Benetton.
"We have to change perceptions of us," Alessandro told Campaign at the London unveiling of the "unemployee of the year" campaign. "We have not been good enough at telling consumers about ourselves."
During his relatively short time in control, Alessandro moved quickly to set the stage for a comprehensive overhaul. In May, he oversaw Benetton's delisting from the Milan Stock Exchange in order to push ahead with his reforms, free from shareholder interference.
And he was instrumental in the appointment of Pastore, a former McCann Erickson senior manager, as his communications chief, with a brief to reconnect the brand with its consumers and help bring back the good times.
With a global marketing spend of more than £80 million under his control, Pastore sees no inconsistency between the serious marketing challenges facing Benetton and the worldwide multimedia "unemployee of the year" initiative.
This invites unemployed people aged between 15 and 29 years old to take part in an internet competition to find ideas that will help make the world a better place. The online community will vote for the best 100 and there are prizes of EUR5,000 apiece for the winners.
All very worthy. But what has it got to do with selling jumpers? Pastore claims the campaign is right in line with the strong sense of social conscience that has always been the hallmark of Benetton's advertising and chimes with the 25- to 40-year-olds who are the group's core customers.
It is a philosophy that has polarised attitudes ever since the 80s, when the photographer Oliviero Toscani first articulated Benetton's desire to promote tolerance, anti-racism and multiculturalism with ads depicting a nun kissing a priest, a dying Aids victim and death-row inmates.
That legacy lives on in the "unhate" campaign, which took the Press Grand Prix at this year's Cannes Festival of Creativity, even though one execution featuring the Pope kissing a Muslim cleric had to be dropped when the Vatican threatened legal action.
Pastore claims this kind of reaction goes with the territory where Benetton was one of the earliest occupants. "Benetton understood, before many other brands, that consumers are people and that we should celebrate this fact without actually showing products," he says.
"Controversial advertising for its own sake has never been our objective. It's just the result of creative ideas interpreted in a different way. People either love us or hate us for it - but they can't say we're a brand without a point of view."
Pastore has already seen to it that an edgy approach is underpinned by a more streamlined internal operation. One of his first actions was to bring together all the group's communication divisions, including advertising, PR and licensing, and to better organise its photography and graphics output. "Everybody was doing their own thing. We have to take pictures of every item we sell. That's why we have one of the biggest photographic studios in Europe working 24/7," he explains.
Most significant, though, has been the establishment of a digital department. About 60 per cent of Benetton's adspend goes on digital and Pastore predicts that figure will soon hit 80 per cent. "Alessandro is convinced digital is key to reconnecting us with consumers," he says.
Pastore is also looking to extend this more rationalised approach into Benetton's media arrangements, currently handled market by market. "We will be consolidating it into a single network," he confirms. "It will take time, but it's the right way to go."
Pivotal to Benetton's fightback, though, is Fabrica, described by Pastore as "the soul of the Benetton philosophy" and a "school without teachers". It is not, he insists, Benetton's in-house agency, although it did create the "unhate" campaign in conjunction with 72andSunny in Amsterdam.
It also took the brief to find an initiative that would resonate with Benetton consumers both young and young-at-heart and which resulted in "unemployee of the year".
Pastore sees huge potential for Fabrica, and its role as a research and communication centre could eventually see it taking on work for clients other than Benetton.
At the moment, Fabrica is playing a central role in turning the group's major stores into what Pastore calls "brand theatres".
The fact that Benetton is largely a franchise operation has led some critics to claim it lacks sufficient control over its empire. Pastore says the balance between franchised and wholly owned stores will eventually be more equal.
Meanwhile, the group is experimenting with "live windows" in 16 of its largest stores, including the one on London's Brompton Road. These carry content ranging from fashion shows, interactive games and creative work produced by young people, all of it under Fabrica's control. "It won't be right for all our stores," Pastore acknowledges. "But live windows may be extended to several hundred of them."
As for what those stores will offer, Benetton says it plans to shrink its range, returning to the colours and jumpers that made it successful, and as synonymous with knitwear as Levi's is with jeans and Lacoste is with polo shirts.
"Our competition isn't Zara or H&M," Pastore insists. "They are distribution rather than product brands. We specialise in high-quality knitwear and that will always be our focus."
Whatever happens, Benetton intends to stick to its knitting, in the most literal sense.
THE PASTORE LOWDOWN
- Bucking the law
Gianluca Pastore was a precocious ad industry debutant, having launched an agency with a friend aged just 23. An engineer's son from Bari in southern Italy, he read law at university before a burgeoning interest in marketing communications ended any prospect of him following generations of his family into the legal profession.
- Making it in Milan
Joining McCann Erickson in Milan as a junior account executive, he went on to manage a number of international accounts including L'Oreal and Martini, spending almost a decade at the agency. "I learned such a lot there," he says.
- An offer from Ingram
After spells as the general manager at Bozell and BGS D'Arcy, Chris Ingram recruited him to the post of managing director at Mediaedge:cia in Italy.
- Sharing the vision
He spent a further four years with a small Milan agency before striking out on his own as a consultant, a move the resulted in an introduction to Alessandro Benetton. "He has fantastic vision and I immediately understood how he wanted to re-energise the brand," he says.
"It's a very exciting challenge."