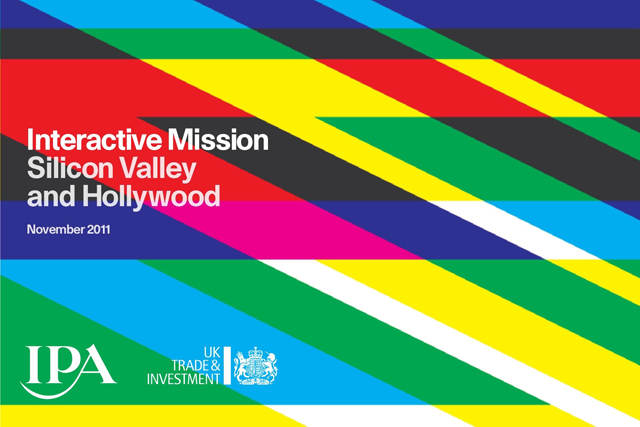 When Nicola Mendelsohn announced in her inaugural speech as the IPA president that, to help drive her agenda of "better connections, fresh talent and better skills", she was to lead a trip out to the West Coast of the USA to meet with senior players in Silicon Valley and Hollywood, she had my full attention. I thought it was a seriously clever idea.
I hustled my place on to the trip as fast as I could and, a few months later, I found myself in the basement of a pretty basic hotel in San Francisco, with an elite group of crack advertising troops from 23red, Addiction, BJL, Euro RSCG, Initiative, Karmarama, Kitcatt Nohr Digitas, Leo Burnett, M&C Saatchi, MBA, MyAgency and SapientNitro.
The following morning, we jumped into a minibus and headed to Facebook's utilitarian campus in Mountain View. Mike Hoefflinger, Paul Adams and Ethan Beard talked us through its latest product roadmap and reminded the group that the enormity of 800 million users on Facebook isn't the thing to focus on. The real reason that every creative brief needs a social insight is that, in spite of the recent information explosion, our capacity for memory remains the same - so what friends think, say and do becomes a crucial and helpful filter.
Next on the agenda were Ellen Levy and David Hahn of LinkedIn. To emphasise their mantra that "in business, people need to be their own brand manager", they gave us each an "InMap" infographic that visualised our own LinkedIn network. We immediately compared our maps to see whose was the biggest. You can do an InMap for your company to find out who are the strongest connectors - and they're rarely the chief executive.
We then headed down the road to Adobe, which was a bit like visiting a very big, slightly out-of-date, ad agency in the early 90s. Strange, given this is a business that enables most of the world's creative services businesses. Jill Soley nervously took us through its plans for the future, but failed to mention the big announcement that hit the news the following day that it was killing mobile Flash.
The bus left Adobe quickly and raced off to the Googleplex to meet with Alberto Savoia, its engineering director. After some preamble about Big Data and the harsh reality of innovation, he railed against ideas: "Ideas live in 'thought land' - an abstract subjective world." He instead believed in "Pretotyping" - using a live Minimum Viable Products and data to make decisions. The room of ad execs, schooled on the Big Idea, felt uncomfortable.
The next morning, our first trip was to the local reviews platform Yelp. Then, back on the bus, some of the team realised we were on the way to Twitter, and so got on with banging out their first Tweet.
Adam Bain gave a sense of Twitter's incredibly strong culture, and I left the building as a believer. If I was graduating again, I'd kill to work there. The fight for getting great young talent into our industry is only going to get harder with the likes of Twitter around.
The bus was jetlagged and hungry as we raced off to meet fellow Brit Simon Mulcahy of Salesforce.com, who introduced us to its cloud-based enterprise software. Lunchtime unfortunately passed without food, and left the by-now starving ad execs in no doubt that the reason companies such as Salesforce succeed in the Valley is that there are no long lunches, just an enormously competitive spirit.
We saw more of this energy at Zynga, the social games giant, where the sheer sense of passion, zeitgeist and money-making was palpable. Steve Chiang's presentation helped us realise how its speed of development, world-class analytics and Facebook centricity mean that it is eating the old world of gaming. They fed us well too.
After this time with the disruptors of Silicon Valley, we expected the next few days, with the disrupted entertainment businesses of Los Angeles, to be more downbeat - but we were in for a big surprise.
The visit to Disney was probably the best example of the fightback. Andy Bird and MT Carney (both Brits) showed us around the Disney campus before sitting us down and telling us how they were doing things differently. As an example, MT (the former managing director of Naked New York) talked about working with the 17-year-old Australian DJ Pogo, whose Alice In Wonderland remixes have had almost five million views on YouTube. The old Disney would have closed him down, but the new Disney was supplying him with the latest movie content.
In the next two days, we met with Time Warner, Fox and the creators of Mad Men. The bus even took us to the Creative Artists Agency, where we met talent agents who would happily eat adland's lunch.
I learnt a lot on the trip, and I know the other people on it did too. It was far from a jolly - the insane agenda saw to that. We have enormous potential to build an even closer relationship with a lot of what goes on in Silicon Valley but, most of all, we should borrow from its culture. It defines the new breed of 21st-century entrepreneurs, who are refreshingly open, nakedly ambitious and excited about the possibilities for collaboration and doing a lot of business with the UK creative industries. I'm looking forward to doing all of that.
Jason Goodman is the chief executive of Albion.