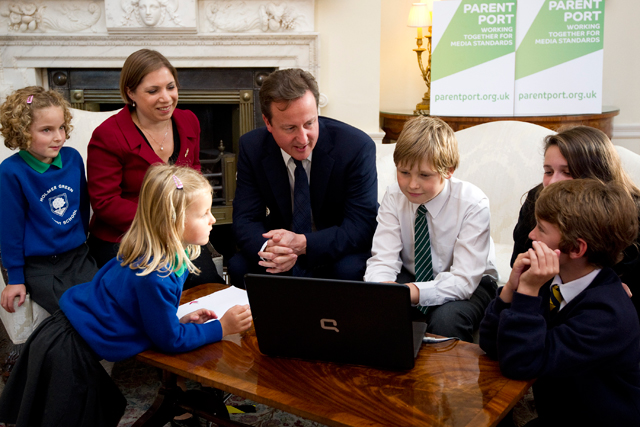 Speeding children towards adulthood long before they are ready for it - either physically or emotionally - is a charge against which advertising has long had to defend itself.
In truth, there's a limited amount it can do to achieve absolution. Indeed, the widespread view is that initiatives such as a voluntary ban on ads for lap-dancing clubs near schools are merely tinkering with a problem that is way beyond the industry's power to resolve.
Nevertheless, the issue is rising up the political agenda again. This month, David Cameron hosted a Downing Street summit with representatives of the advertising, media and retail industries to discuss curbing the premature sexualisation and commercialisation of children.
Among the delegates were Tim Lefroy, the Advertising Association chief executive; Mark Lund, the former COI boss who has been chairing an AA panel on the subject; Guy Parker, the Advertising Standards Authority chief executive; and Mike Baker, his counterpart at the Outdoor Advertising Association.
Whether the summit will achieve very much is debatable. Many within the industry believe they have become pawns in Cameron's bid to win back women voters hit hard by Coalition cuts.
"We're seen as low-hanging fruit," an industry source claims. "Support for such a campaign costs Cameron nothing and requires no legislation."
The main criticism of the Prime Minister is that he wants a quick fix for a deep-rooted problem. "We're caught between a rock and a hard place," a senior industry figure says. "We can't say we don't support the idea of reducing the sexualisation of children because it would be politically incorrect. But the result is that much of the blame is laid at adland's door - and that's completely unfair."
The reality is that the industry's room for manoeuvre is limited. The ASA council has been discussing what, if anything, can be done to tighten a set of already-strict rules in light of the Let Children Be Children report from Reg Bailey, the Mothers' Union chief executive.
Meanwhile, sources at the rule-making Committee of Advertising Practice predict that its recently reviewed codes may be tweaked to make some of the regulations regarding the sexualisation of children more specific.
A big worry is that the problem is being exacerbated by industry bodies whose bravado turns to obsequiousness in the Prime Minister's presence.
"Doing the right thing just leads to more demands being made of us," a source warns. "No matter how many concessions we make, the dogs are never called off."
Got a view? E-mail us at campaign@haymarket.com
MEDIA INDUSTRY BODY
Mike Baker, chief executive, Outdoor Advertising Association
"At the moment, we're in limbo and in urgent need of clarity. It's clear the Government wants to toughen up the rules, but advertisers have to be clear about where the line is to be drawn.
"We're a responsible industry and our council has been investigating a ban on posters for lap-dancing clubs and sex shops. But that's discriminatory because they have a right to exist and a right to advertise.
"However, we do offer to keep certain advertisers out of 'exclusion zones' around schools, even though it's a logistical and commercial challenge.
"I'm baffled by what's going on when complaints about poster advertising have been dropping by 33 per cent year on year. Our fear is that advertisers will turn away from the outdoor medium if they are led to believe they can't do edgy work on it. That would be very bad for our business."
AGENCY HEAD
Mark Lund, managing partner, Now
"As an industry, we can do more to curb the excessive sexualisation of children, and I think that new ASA guidelines will be helpful in defining what sexualised images actually are. This is such a subjective area.
"Posters are such an important factor in this because they are the last great public medium - unlike TV, which is increasingly channelled, and print, where consumers know what to expect.
"David Cameron was very clear that he wanted action on this even before the general election, but both he and Reg Bailey recognise the importance of working with us.
"There needs to be complete transparency when it comes to educating parents about marketing techniques. Brands shouldn't just be good corporate citizens because it's the right thing to do, but also because they'll be less commercially successful the more they become out of sync with social mores."
INDUSTRY BODY
Tim Lefroy, chief executive, Advertising Association
"We can't be cynical about this. Concern among mothers about excessive sexualisation is such that major brands are already very circumspect and careful about the way they treat children, and we have to make sure that continues to be the case.
"However, this is more of a cultural than a regulatory issue. Companies that use children as brand advocates are lazy marketers. But advertising is a competitive industry and there's always a danger that some people - often very young - will get carried away with an idea. We have to make them understand what they should be doing.
"Of course there's a limit to what we can do, and the effectiveness of the CAP codes means we don't need loads more regulation. But we know today's parents have a tough time, particularly because of the internet. We can never be complacent."
INDUSTRY BODY
Guy Parker, chief executive, Advertising Standards Authority
"Reg Bailey's review and our own research among young people and parents tell us that we have sometimes got it wrong on posters that contain sexual imagery.
"That doesn't mean posters are a particular problem when it comes to the sexualisation of childhood.
We haven't seen evidence of that, but that doesn't mean we should turn a blind eye to the feedback we have.
"Our statement about tightening up where we draw the line has been broadly welcomed by stakeholders, including the Government, and I'm confident that advertisers, agencies and media owners are on board, too.
"They need to be. Now that we have a clearer idea of what standards people expect, we have a responsibility to act. There's always a danger that advertising will become the easy target, but it will deserve to be if it gets out of step with standards in society."