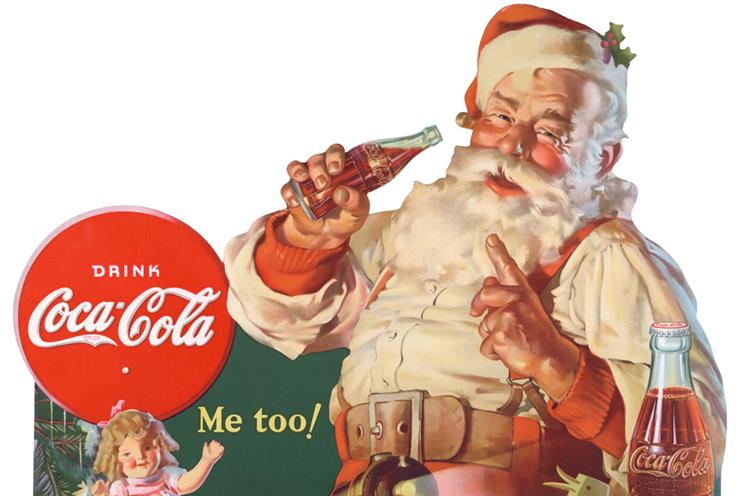 PAST
Gerry Moira, chairman and director of creativity, Havas Worldwide London
Christmas is younger than you think. True, the gap between bucolic, alcoholic Olde Father Christmas and what Steve Sharp of Marks & Spencer called "The Golden Quarter" is about 500 years, but the character and the commercialisation are relatively new. The old pagan woodland Father Christmas was merged with the old Greek Saint Nicholas (Sinter-klaas) to form Santa Claus Inc about 150 years ago. That corporation was taken over by The Coca-Cola Company some time in the 30s and given a major makeover. Out went excessive wassailing, overt Catholicism and the green outfit and, since then, the "holidaysacomin" juggernaut has been unstoppable.
In many ways, the Coke convoy is the typical Christmas commercial message. Slathered in saccharine, it topples off the rest of the brand's communication platform and falls into that pool of sentiment that seeps under the door of our better judgment at this time of year. Even the most cynical practitioners and consumers of advertising suspend our critical faculties and let the whole syrupy mixture flood in. Christmas advertising is like that grinning idiot in dispatch who says: "Cheer up, it might never happen." But it does. Every year. About this time. Why?
Behavioural scientists have been working on the theory that we're all pissed. The eggnog-fog has descended on consumers and their brains have turned to mush. They are, to all intents and purposes, defenceless. This would explain why the mere appearance of, say, Lulu can determine a retailer's balance sheet for the next quarter.
It also gives us some insight into people's ability to decode the mysteries of French fragrance advertising. Pour femmes, pour hommes, pourquoi?
On our part, the genteel alchoholia that used to blanket our efforts at this time of year has largely been removed. Back in the day, the legendary Ogilvy Creative Department Christmas Lunches were said to descend into food fights but, I recall, they generally started with a food fight and fell down the cellar steps to something darker and more disgusting. It was said: "If you can't take a fisting with a turkey drummer at Christmas, then maybe, just maybe, you weren't Ogilvy material after all." Nowadays, the worst you might have to endure is sitting on Rory's lap and asking for a bonus.
Perhaps the saddest spectre that haunts me from that era is that of young art directors' bodies returned from "a light lunch with the print reps". Buoyed with a delusional estimation of their alcohol tolerance based on weak Northern bitter, these young lads would trot off to Soho with Tony and Vince, blissfully unprepared for the punitive hospitality about to be visited upon them. Wined, dined and their genius toasted by the flames of 20 sambucas, the young Jägermeisters would be introduced to the girls at Sunset Strip, then routinely tromboned by a tranny off Frith Street and returned to the agency in a goody bag. That, gentlemen, is entertainment.
Which is more than can be said for the majority of Christmas ads, despite their best efforts and biggest budgets. Hadley Freeman of The Guardian has described the current creative arms race as our Super Bowl. Certainly, the latest John Lewis spot comes second only to Skyfall in prelaunch hype. Where, Gez, where did it all start? How did it get this crazy?
Woolworths. The much-lamented home of the pick 'n' mix was really the first to take the English tradition of panto and put it to work commercially. Indeed, many people in Britain only knew it was Christmas because Leslie Crowther was on their screens.
The reappearance of so many C-list celebrities in retailers' ads gave rise to the FMIHSA acronym: Fuck Me Is He Still Alive? With the demise of Woolies, M&S took up the task of shortening the queues at Equity's soup kitchen with a series of spectacularly camp productions. For most of us, the high point of these star-studded extravaganza was Twiggy's attempt at a convincing smile. That notwithstanding, M&S held off the grocers and catalogue merchants to be undisputed king (or perhaps queen) of Christmas until 2010. That was the year the curtain came down on the Great Christmas Panto ad. Next year, John Lewis was the new kid on the block and its tale of the boy with the burning present captured the hearts and wallets of our squeezed middle classes. I don't think that bar has been straddled this year and the pressure to "win Christmas" is not encouraging much lateral creative thinking.
I don't really miss the days when Ding Dong Merrily On High used real dongs and the fake snow was flown in from Colombia, but I'm not sure if the business of spreading "comfort and joy" hasn't become a tad too serious.
PRESENT
Jonathan Burley, executive creative director, CHI & Partners
"Boy!" cried Scrooge, calling downward to a youth in a hoodie. "Do you know the poulterers, in the next street but one, at the corner?"
"Whatever," returned the lad.
"An intelligent boy!" said Scrooge. "A remarkable boy! Do you know the prize turkey they have hanging there?"
"The fuck-off big one?" returned the boy, with all his might of wonder.
"Indeed!" exclaimed Scrooge. "Go and buy it and I shall give you a shilling."
"But not in a Jimmy Savile kind of way," added Scrooge with some alacrity, registering the suspicion in the young paragon's eye.
The boy shuffled off, and Scrooge returned to his chambers, rubbing his hands and chuckling. Oh, glorious!
He settled upon his settle to watch something on the television that would capture the spirit of this moment. Something snowy, or Silent Night-y, or – bless us all! – even Noel Edmonds-y, if naught else was on Sky. Something Christmassy, indeed: for the old man had a new-found hard-on for Christmas that would last him until Maundy Thursday.
At this moment, Fortune smiled upon Scrooge with all its jovial sweetness – he had happened upon an ad break and, as we all know, there is little so Christmassy as a retail-heavy ad break in mid-winter.
"Why, it is an advertisement for Asda!" cried Scrooge in great excitement. "Asda is a brand whose advertising I am wont to associate with the smell of Nan-piss and chicken tikka pizzas, but this is a lovely thing, as plump with proper working-class insight as a pudding, as stuffed with good cheer and empathy as a goose! A humbug to those melancholy twats who mutter their false complaints of sexism and misery; this is nothing but a very fine advertisement indeed."
And now Scrooge looked on more attentively yet, as there came upon the television screen another advertisement, this time for Morrisons. This too was rich with the insight of a hard-won family Christmas, although perhaps a little more baggy of eye in its casting and direction. But Scrooge clapped his hands in delight at the flights of fancy that seasoned the film. Such fun! Very. The plucked turkey in the wrestling ring, he reasoned, resembled nothing so more than a naked Paul Lawson.
But, now, as Christmas advertisement followed Christmas advertisement, and family vignette followed family vignette, and festive insight followed festive insight, Scrooge felt himself grow giddy with similarity. Morrisons became Sainsbury's, and Sainsbury's became The Co-op, and The Co-op became Tesco became Matalan became Boots became B&Q in a dizzying whirligig of sweet-natured children, and family-laden Christmas tables, and folksy music tracks, and singularly warm female voiceovers.
"No more!" cried Scrooge. "Why do you torture me with such wanton displays of John Lewisness? No more middle-class Christmas-jumper soppiness, I beg of you. No more. For the love of fuck, no more."
And, as Scrooge fell to weeping, and considered gnawing his own genitals at the wretched misery of it all, there fell upon his face a golden light. It was warm, this light, and it came from an advertisement.
A John Lewis advertisement.
Which wasn't about flatulent grandfathers, or angelic children, or dogs hiding beneath dinner tables.
And which – save for the music (which, at this most generous time of year, we can perhaps forgive, each and every one of us) – was, in every aspect, not a John Lewis advertisement at all.
"Can this be true?" whispered Scrooge. "Truly true? Is there indeed such a thing as a cliché-free Christmas ad break? Is there, after all, wonder and imagination and delight and originality? Fuck a duck."
Thinking thus, Scrooge lit himself a Silk Cut 100 and drew upon it with some satisfaction, and retook Christmas unto his bosom. The old man browsed upon Net A Porter for an appropriately shiny gift for Him Indoors and bought an over-enthusiastic Norway Spruce of such jovial proportion that it positively scarified the low ceiling of his apartment.
As that mewling little shitbag Tiny Tim observed, God bless us, every one!
FUTURE
Ben Middleton, creative partner, Creature London
I'm going to level with you. I was invited to write this piece from the perspective of merry, optimistic Christmas future, and I shat in my stocking. This was mainly because I (and I think those who know me would agree) wouldn't exactly describe myself as the personification of Christmas cheer. I'd describe myself more as "that brilliantly smart creative genius who is both hilarious and has the supermodel good looks in his face", but that's not entirely accurate, or even grammatically acceptable.
The unfestive truth is that I don't really go in for all that tinsel, eggnog and sleigh bells. I think it's got something to do with having to spend all the money, watch all the people doing the sick in the taxi cars and endure Noddy Holder in my ear zones mercilessly. Every year, it feels like Groundhog Day as every shop, saccharine carol singer and hot-toddy-maker tries to demonstrate just how much they FUCKING LOVE CHRISTMAS. There's little variety, bravery or points of difference. I can see why most creative directors in London fuck off to their villas in Thailand for the jingle weeks. Aside from the sunshine and cocktails, at least it's different.
How and why is all this relevant? Well, I tend to focus my frustration and energy on looking at all these things and trying to work out how they can be better, which I guess is part of the reason I got into this advertising scene in the first place. That, and because I was told you didn't have to wear a suit.
The first question I was asked was: what will Christmas ads look like in five years' time? Ah, the old "show everyone how on-trend you are by accurately predicting the future" question.
Well, sadly, I think they're going to look and feel pretty similar. Contrary to what I personally think about the festive season, there's good reason that all those ads look the way they do, and that's because the vast majority of people really look forward to Christmas (what kind of miserable bastard doesn't?). It's a day off work when you can drink before lunchtime, eat until you have to do that heavy loud breathing through your nose because your mouth's so full, have a row with a relative (some people like that) and then have a dribbling kip in front of a Bond film.
How are you going to change things? I've got a bunch of ideas on this, but the most realistic one is that my petition to Davey C and the Clegganator to rebrand Christmas entirely to "a-couple-of-days-off-dossing-about-and-doing-what-you-want-mas" successfully sails through the confused Government, forcing marketing directors everywhere to drastically change the environment within which their brands have to communicate with their target consumers.
Marks & Sparks can still be all about food porn, it'll just involve graceful shots of its cake flying through the air as people chuck it about, jam being used to write on walls or, y'know, actual pornography using a premium cheese board.
My favourite Christmas ad of all time has to be that one by Marks & Sparks from a couple of years ago. It was the one where the models have a slumber party in their pants in a log cabin. It had stacks of standout and difference than the other stuff it was surrounded by at the time, and it had girls in pants in it.
In my idealistic, alternative view of future Christmas ("a-couple-of-days-off-dossing-about-and-doing-what-you-want-mas"), this ad would still work for almost every bloke in the UK – we'd just have to make another one for the women that did something about ironing and cooking, or something to do with sewing.