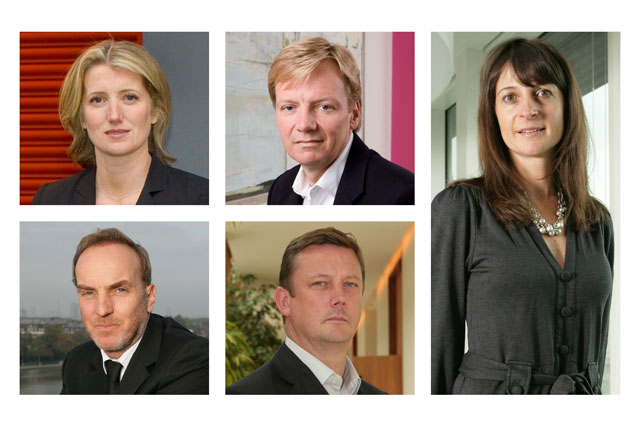 KAREN BUCHANAN - chief executive, Publicis London
In many ways, my entry into the industry was quite traditional. I studied English at university and had to choose whether to go into journalism or try my hand at copywriting.
I had placements doing both and decided that I wanted to focus on advertising, so I wrote to agencies and the first place that offered me an interview was Ogilvy & Mather.
Cilla Snowball, who was there at the time, came up to my campus to meet me and, soon after, I was offered a place on the agency's graduate training programme. I was part of a grad intake that also included Ben Priest and Charlie Rudd, while the intake in the year following mine included Johnny Hornby, Nick Howarth and James Murphy. It's fair to say that O&M knew how to pick them.
JON CLAYDON - chairman, Work Club
I was a latecomer; only finally arriving in the ad business after an archetypical 80s cavort in the City. But eight years of having wet towels flicked at my arse in squash locker rooms - and the peculiar, suffocating smugness of that world - lit a bonfire under that particular vanity. In 1991, I turned to advertising. And I hit the ground crawling.
Self-employment was the real draw. A university buddy then running an agency was launching and gamely asked me along. One of the ad business' greatest strengths is that start-ups are cheap and viable; and if there's any message from my particular story, it's that "going out on your own" should be a plan, not a "might-get-around-to-it".
So, lured by equity and new horizons, I jumped from a Lamborghini to a Golf. I'd yet to learn that this, like every start-up I'd subsequently launch, would instantaneously trigger the collapse of the global economy. But the first months in my first business still felt just great. Like Wile E Coyote running off a cliff, but taking a while to realise it.
Then it was no fun at all. Until, eventually, dumb luck and PepsiCo turned things around.
Dead-eyed, gunslinger candidates of today will have unearthed a similarly downbeat air to the ad business now. Ignore it. It's an immutable law of our business that nothing's ever as good as it seems, and nothing's ever as bad as it seems. Trust me: the future's bright. People will always need to sell stuff; and if you have it in you to do so with insight and charm, then yours is the earth, and everything that's in it.
HUGH BAILLIE - chief executive, Ogilvy & Mather London
When I finished university, I had no idea what I wanted to do with my career other than that I wanted it to have something to do with marketing.
So I got a job as a graduate trainee at Littlewoods, working on the launch of its new catalogue. As part of that, I had a secondment at an agency called Chardonnay that was working on the launch, and I absolutely loved my time there. The chief executive of the agency called me up after my placement was over and offered me £20,000 per year and a 1.6 Golf GTi if I joined them.
For anyone that age, it was an offer you couldn't refuse, so I agreed straight away. Unsurprisingly for an agency that was giving away salaries like that to junior members of staff, Chardonnay went bust five months later.
RUSSELL RAMSEY - executive creative director, JWT London
After a year at Chelsea School of Art and three years at the London College of Printing, I found myself unemployed and still living in a student flat above a pub on Blackfriars Bridge Road.
I'd wanted to work in advertising since I was about 11 and that's why I was in London, but getting a job was tough. I was working on my book by night and visiting London's finest agencies by day.
I got lots of positive feedback but lots of negative feedback too. One agency's brilliant and clever was another agency's dull and boring. I was confused, but I kept going. My lowest point was standing in the dole office, just behind someone inhaling Bostik from a carrier bag.
Two weeks later, however, and on my sixth or seventh visit to Saatchi & Saatchi, I was offered a job by John Bacon and Alan Midgley. The decision had to be endorsed by the then executive creative director, Jeremy Sinclair. Luckily, his reaction was positive, but on hearing that the starting salary for grads was six grand, he responded by saying: "What happened to four-and-a-half?"
No matter. I was in.
DEBBIE KLEIN - chief executive, Engine
Fresh off the boat from South Africa, the first interview I had was with Rita Clifton at Saatchi & Saatchi. Rita showed me a reel of ads, which I was asked to give my opinions on. Luckily, my "say it how you see it" approach was what she was looking for and I was hired as a junior planner, working alongside Alex Batchelor and Tim Duffy.
My first creative briefing was terrifying as I had to brief Adam Kean and Alex Taylor on an InterCity ad. This was a quick education on the protocol of "how to handle creative directors", as the account handler's advice was that "no-one ever says no to Alex".
But my lasting memory from those early days was the first pitch I was ever a part of, for Adams Childrenswear. I did the pitch with David Kershaw and John Rudaizky and, between them, they taught me pretty much everything I have ever needed to know about pitching.