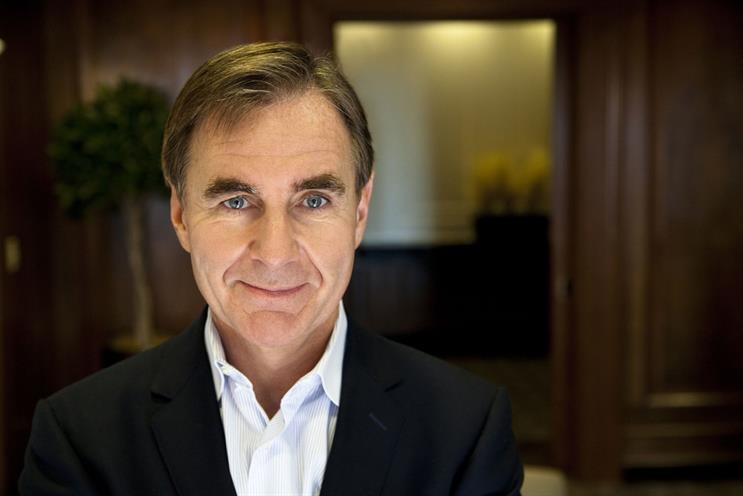 Arguably, the most interesting nugget to emerge during the London leg of the Publicis/Omnicom merger roadshow was the one proffered by Omnicom's chief financial officer, Randall "Randy" Weisenburger. He revealed that, should the merger go ahead, media activities would account for just 12 per cent of combined revenues.
The surprise wasn't that this seems a small number (though that does, in itself, give food for thought). No – the strangest aspect is that Weisenburger was citing this number in support of his belief that the deal would escape regulatory scrutiny.
This is as close to a non sequitur as you'll get from a man who may eventually become the chief executive of Publicis Omnicom Group.
The regulatory issue, of course, is whether Publicis Omnicom Group's dominance in national or regional media markets might be open to abuse. And, as our chart shows, there are areas of the world where the merged group would not only leapfrog WPP but control a third or more of the marketplace.
It's understandable that Weisenburger would wish to deflect attention from these scarier numbers – but, actually, his remarks only served to remind everyone of the extent to which media clout has been underplayed as a motivating factor in the deal.
The truth is that media has to be considered front and centre. And when you look at it from this perspective, another wrinkle rather fades into insignificance – possible client objections. The message emerging from the roadshow was that client conflict wouldn't be an issue – because the theory and practice of "Chinese walls" in account management would continue to apply.
And that's surely true because, in some senses, this deal is absolutely being driven by the media demands of clients. The actions of multinationals, especially in pitches over the past couple of years, have made it almost inevitable that a new round of agency consolidation will accompany economic recovery.
Seasoned observers in the media marketplace have bemoaned the fact that, since the downturn, all things being equal, big clients will effectively award their business to the biggest agency group they can – because clients believe, with some justification, that the bigger the group, the cheaper the eventual price. (And don't bother asking them to differentiate between cost and value.)
This trend has been exacerbated by the growth of digital media, a sector in which the bigger groups are effectively trading these days as media brokers. In digital trading, you're effectively out of the game if your market share falls below a certain level.
Clients know this and media agencies know clients know this. Some of the pitches conducted during the past couple of years have been, notoriously, almost surreal in their relentless focus on the numbers (and the numbers behind the numbers). "Extreme procurement" is how it's now referred to in some circles.
So, on one level, the analysis is simple – numbers two and three in the market had to combine to compete with WPP in a maturing digital media marketplace.
And if you need evidence that the deal must make some sense, look no further than claims from WPP's boss, Sir Martin Sorrell, that it's a terrible idea. He says it won't work for two main reasons: first, because so-called mergers between so-called equals never work; second, because mergers involving French and US companies hardly ever work.
Indeed, it's in the media sector that possible disparities in corporate culture will be a prime concern. The powers that be at, say, DDB Worldwide may never be called upon to break bread with their counterparts at, say, Saatchi & Saatchi. Where the media agency assets are concerned, however, it's a very different story.
It's true that, as regards a structure for housing the merged media assets, there has been absolutely no thought as to the possible blueprint – though there is every expectation that a working party to resolve this issue will be led by Daryl Simm, the chairman and chief executive of Omnicom Media Group. Simm has effectively been Omnicom's top media executive for 15 years – and, before that, he was the global media boss of Procter & Gamble.
Perhaps the only Publicis media executive in the same league is Jack Klues, the founding chief executive of Starcom in 1997 and, more latterly, the chief executive of VivaKi. But, in November 2012, he revealed that he was handing the reins to Frank Voris and was to become the chairman with a view to retiring in the near future.
Omnicom has more group media management structure in place than Publicis. So it will be argued that Publicis media agencies could be slotted relatively painlessly into the existing Omnicom Media Group structure; whereas stripping down Omnicom to make it emulate Publicis' (lack of) overarching group media structure would involve a painful period of bloodletting.
Those who predict trouble whichever way the cards are dealt will, quite naturally, point out that the absorption of Zenith Media (with its classic Anglo-American culture) into Publicis, after the take-over of 2000, was a terribly painful process. But that was then. Actually, those who have worked recently for both Omnicom and Publicis say there's not much difference in the way the two corporations go about their business.
But perhaps Sorrell is right. It happens. In an interview granted to a journalist in Paris recently (and you must pardon his French), he cited, as dire warnings, a couple of notoriously unproductive US-European corporate mergers: "Regardez DaimlerChrysler, ou Alcatel-Lucent." It's going to be fascinating to see if he is right, after all.