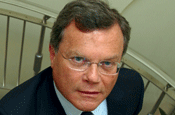 Sir Martin Sorrell, the WPP chief executive, has slipped from 608th richest in 2007's list to 755th in 2008.
The list's compilers measure his wealth at £106 million today compared with £115 million a year ago.
The Saatchi brothers, Lord Maurice and Charles, are ranked 366th in the list, down from 312th in 2007.
The Sunday Times puts their joint worth at £220 million, down from £231 million last year.
The media couple Elisabeth Murdoch and Matthew Freud are a new entry in the list of Britain's richest 1,000 people. Their joint wealth of £166 million ranks them 489th.
The publication of the 20th annual Rich List, in this weekend's Sunday Times, will be backed by Britain's
Rich List: Give It Away
on ITV1.
An ad campaign in the UK and in New York's Times Square will also support the publication.