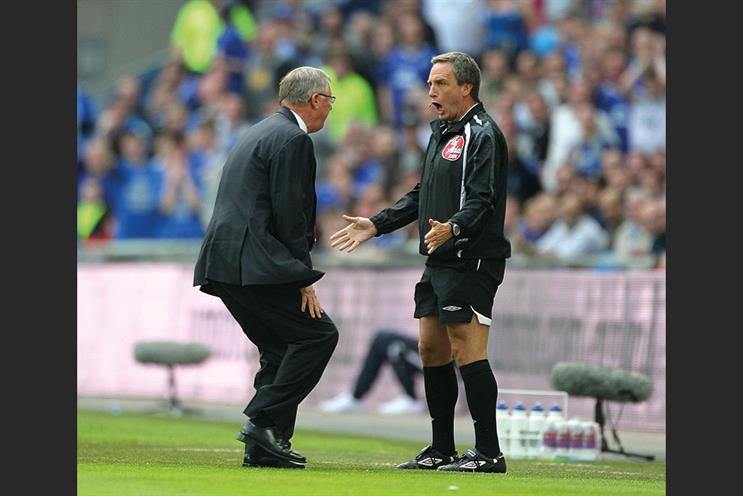 Remember Pierluigi Collina? The Italian was considered the finest football referee of his generation. While others achieved fame of sorts through poor performances, Collina invariably got the big calls right, took no nonsense from either team and let the game flow with minimal interference. Kerry Glazer reckons every pitch consultant could take a leaf from his notebook.
"We like to think of ourselves as referees," the AAR chief executive explains. "Our job is to be invisible but in control of the game right up to the final whistle."
Some, however, wonder whether too many of adland's marriage brokers are less like Collina and more like Alan Wiley, the referee who landed Sir Alex Ferguson in hot water at The Football Association in 2009, when the then Manchester United manager suggested he was unfit and unable to keep up with the game.
There is also growing concern that intermediaries are compromising themselves by not only refereeing matches but also offering paid-for coaching to players to boost their winning skills.
But it is equally true that intermediaries are having to adapt to survive in an evolving environment. Just as in the agency world, the intermediary market is becoming oversupplied. The sight of about 40 consultants at the recent Adforum gives an indication of the intense competition.
Add the fact that there are fewer pitches, that fees paid by clients to pitch consultants have stagnated and clients' growing confidence to deal directly with agencies, and the scale of the challenges facing intermediaries becomes apparent. ISBA is also increasingly involved in agency search – "They are stealing our lunch, big time," a leading consultant acknowledges.
Pitching now accounts for only about 18 per cent of business at Oystercatchers, which is involved in client marketing training and runs the Sainsbury's marketing academy. "We're no longer just an intermediary," Suki Thompson, Oystercatchers' chief executive, says. "We're a consultancy specialising in marketing communication."
Similarly, David Wethey, the chairman of Agency Assessments International, says: "Our relationship management work is now larger than our pitching activity."
Can intermediaries remain credible by running with the hare and hunting with the hounds? "Conflict of interest issues are bound to arise if intermediaries take money from both parties," Stuart Pocock, Roth Observatory's managing director, responds. "We're paid only by clients."
Glazer insists AAR's move into relationship appraisal has been driven by client demand and that the team handling this is separate from the one dealing with agency search and selection.
But, like Wiley, do intermediaries justify the charge of not keeping up with the game? All acknowledge that it's tough but Glazer says: "We handle between 70 and 90 briefs a year, so we're continually in the marketplace."
Wethey admits he will often draft in experts to help in a pitch process. "I'm not expert at everything," he says. "I'll stand down from a complex media pitch while big data is something few people know much about." Does that make him out of date and out of touch? "I'd be devastated to be accused of such a thing," he replies. "But I'd never claim to know what I don't."
But some intermediaries are indeed out of date, according to certain agency chiefs, who accuse them of sticking to preconceptions about their operations. But as Pocock points out: "Agencies have always been good at hyping themselves up."
The other area of friction is what agencies claim is too much obsequiousness by intermediaries towards clients and their failure to reduce the number of pitching marathons. Pocock admits the charge has merit but Thompson, whose British Airways client took seven months to choose a new shop, claims agencies need to get real. "A pitch may be part of what is a big structural change for a client," she says. "While it may be frustrating for agencies, it's just part of corporate life."
Some see all this as symptomatic of the shake-out going on in the intermediary sector that will result in a broadening range of services being offered by the top players.
"It's inevitable," Wethey predicts. "Consultants aren't just looking for more revenue sources but creating the sort of professional services clients are demanding."
OUTRAGEOUS, BITTER AND TWISTED… AGENCY CHIEFS HAVE THEIR SAY
Partner
"My big problem is with intermediaries who turn up to no more than a couple of pitch meetings and what happens when they move into relationship management. It's like gamekeepers flushing out the birds to be shot."
Chief executive
"My frustration is that intermediaries are matchmakers rather than managers of the process, particularly when a client is being unreasonable about timings and fees or is behaving badly. I recently heard of 27 agencies being invited to make submissions prior to a pitch. That's outrageous given how much time and money it takes just to put an RFI together. We need to know from the intermediaries if we have a realistic chance of winning."
Chief executive
"I prefer intermediaries to be involved in pitches. For one thing, the process has got more complex. It's not like ten years ago, when you just presented a strategy and a TV script. For another, you don't get the feedback from a pitch without a consultant. However, I think intermediaries could do more to truncate the pitches that are expensive and time-consuming and which they have been partly responsible for prolonging."
Managing director
"Not only are some of these people out of touch, but defiantly so. They are bitter and twisted grumpy old men. Too many aren't thinking beyond London. I'm staggered some are still in business."