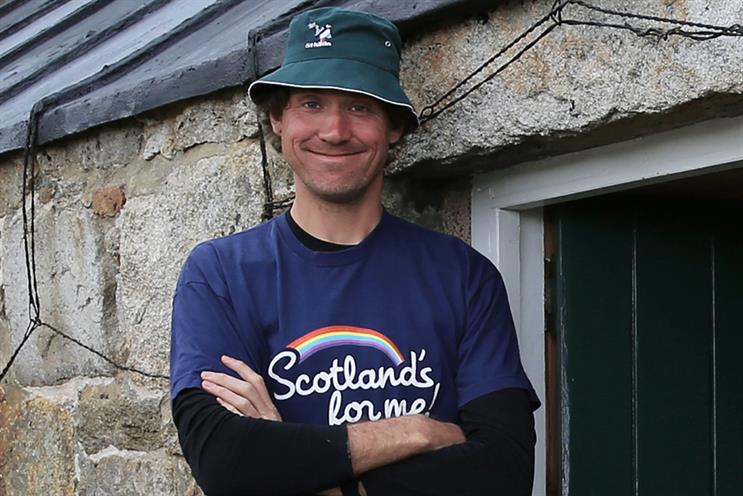 Dougal Wilson is one of the UK's top commercial and music-video directors, and has secured his place in ad history as the man behind the camera on the bulk of John Lewis' Christmas campaigns. He talks to Campaign ahead of his President's Lecture at D&AD on 20 April.

When you collected your Chairman's Award at the British Arrows, you were introduced as having studied astrophysics. How did you go from that to advertising?
That's a misquote. I studied physics as part of a natural sciences degree at Durham University because I wanted to be an astronomer. But when I started directing, a magazine quoted this as "astrophysics", and it has been repeated a few times since. But Durham doesn't seem to mind. They Tweeted about me when the last John Lewis ad came out.
I wasn't quite good enough to be an astronomer but, while studying, I started drawing posters for university gigs and plays. I began wondering if there was a job that involved something like that.

How did you end up at the Scottish agency Leith?
In the 80s and 90s, there wasn't too much information about jobs in ad agencies. I went to Edinburgh because I have family connections there and was terrified of London. I was lucky enough to end up at Leith on a placement. At the time, it was the most interesting agency outside of London.

How did you move from copywriting into directing?
I was a copywriter at Leith for seven years. I was exposed to the job of the director by our head of TV, Les Watt. We made ads for Scottish things like Irn-Bru and Tennent's.
Meanwhile, I started seeing showreels of directors like Spike Jonze, Michel Gondry and Garth Jennings, so was inspired to try making music videos for my friends' bands – albeit slightly ropey lower-budget ones. Eventually, I got a showreel together and made a pile of copies on VHS. I gave the first one to Blink and, before I managed to send out the others, James Studholme, the managing director, asked me to come in for a chat.

Do you think it's harder for young directors to break into the industry now?
The means for young directors are more available now. But that also means there's more competition, so having an original idea has become more important than ever.
I was maybe lucky because fewer people were trying to do it when I was starting – maybe because it was simply practically harder to film and edit something in those days.

John Lewis: Wilson's work on 'never knowingly undersold' helped create a new style of advertising
You have a reputation as being a nice guy in an industry where difficult behaviour is often regarded as concomitant with talent. Is this a conscious effort on your part?
I started on a placement in an ad agency and worked my way up, so I have a good perspective. I just like to treat people how I would like to be treated. There's a cult of "director knows best" but the agency spends a long time making scripts and cherishing the idea before you get to it. It's arrogant not to collaborate. As a director, you're there to enhance their ideas. They have been thinking about it a lot longer than you have.
I don't like conflict and the atmosphere it creates. Some people say they perform better when there is conflict, but I think people are more creative when they are happy.
You have so far stayed away from directing long-form content. Why is that?
I've been trying to develop a couple of long-form things over the past three years – but the ideas aren't quite good enough yet. It seems 90 minutes is a lot trickier to work out than 90 seconds.

You helped create a whole genre of advertising in your role as director of many of John Lewis' Christmas ads. How did that come about?
I'm not sure creating a genre was entirely intentional. I was drawn to the first John Lewis ad I did ["never knowingly undersold" in April 2010] by the script – a person's whole life where each age is played by a different actor. I liked it as a visual trick, but also I wanted to see if it could be quite emotional. It wasn't really the intention to create the "John Lewis world", but I guess that style inevitably evolved as we made more ads together.
Do you get possessive when other directors shoot the retailer's Christmas spots?
No – it's nice to have a break and it's important that the feel of the ads has some variation.

You got a taste of controversy with the short film No Pressure, which comically showed climate-change sceptics being blown up. How did that feel?
That film was made with the best intentions but somewhat naïvely. It was clearly satirical and we obviously weren't suggesting anybody should get blown up for denying climate change. But the issue has become so politically sensitive that our approach felt confrontational in retrospect. In my passion for the cause, I also maybe made the gore a little too real. I didn't mind that the climate-change-denier movement got a bit wound up, but it was a great shame that environmental groups distanced themselves from it.
The agency spends a long time making scripts and cherishing the idea. It's arrogant not to collaborate
Should brands use social causes in their advertising?
I would like to see more brands tie themselves to an important issue like The Guardian has done with the Leave It In The Ground campaign. I think any business should be as responsible as it can be – if you take an irresponsible approach to where business is going in the future, then business itself will become unsustainable.

Has the rise of digital and content changed how you do your job?
I do about four or five ads a year and those projects seem to have got longer and more involving, but the job has not changed that much for me.

What has changed since you started?
There seems to be less investment in the longer, narrative-based ads that inspired me to get into directing – for example, the original Stella Artois campaign. Creative teams also seem to have an awful lot of other stuff on their plate when you're working on a job with them, which is a shame because time for collaboration on the details can be fun and important.
Campaign is the media partner of D&AD Judging Week. See full coverage of all that is happening during the judging week on Campaign's D&AD Judging Week hub.